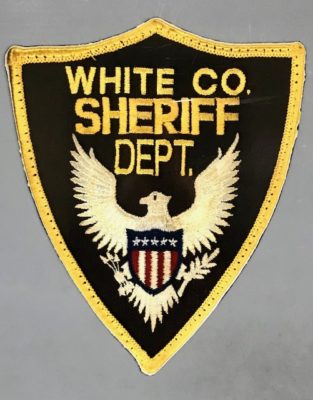 A couple of suspicious fires were reported to the White County Sheriff's Department Saturday morning at 629 South Church Street in Carmi.  As a Deputy reported to the scene, he was met by Sandee Brown and William Collins Faulkner at the back porch, along with a juvenile who was sitting on the back steps of the residence.  Brown said she went into the kitchen and saw a pot holder on fire that was hanging about two feet above the store on a hook.  She said the stove is electric and nothing was being cooked on the flat cook top, so there is no possible way the stove caught the pot holder on fire.  Brown used a deep fryer basket to get the burning pot holder and throw in the kitchen sink, which resulted in a secondary melting of a plastic container that was in the sink.  She also said that there were some clothes on top of the dryer located in the adjacent room that were on fire.  She picked up the clothes and threw them on the back porch.  Brown decided to call for an officer in fear for their safety.  No other details were made available.
Late Sunday night a Sheriff's officer went to the residence of 27 year old Anna Franks at 729 Shipley Street in Carmi in reference to a verbal domestic dispute.  She and 33 year old Adam Brown of 501 West Kerney Street in Carmi were arguing in the front yard.  The officer spoke to Franks first, who said Brown threatened to take the car and that he needed help as he was not in his right state of mind.  Franks gave a written statement of the argument.  She also had signed a report for disorderly conduct against Brown that morning, so he was placed under arrest and taken to the White County Jail.  Brown is being held on $100 bond.
A Sheriff's Department Deputy responded at around 9 o'clock Sunday morning to 708 Shipley Street in Carmi for the theft of a lawnmower.  Mark Evans, 60, said someone stole his Troy Built riding lawnmower, which he had bought for $1,700 from Rush's in Carmi.  Details were not made available, but the lawnmower was recovered without incident and returned to Evans.
And on Monday at about 10:30 AM, an unidentified person came to the White County Sheriff's office to report finding an old safe while magnet fishing. They showed them the safe and released it into the department's custody.  It was described as about two foot by two foot in diameter and had been entered by force.  It appeared to have been some type of drop safe.  It was found on the north side of a bridge along County Road 2000 North in Carmi.