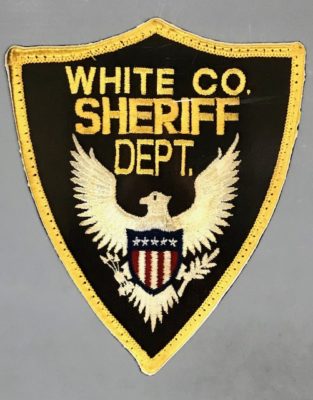 A Norris City couple had their mailbox destroyed over the weekend according to White County Sheriff's reports.  It was nearly 10:30pm Saturday night when Jimmy and Betty Gwaltney of rural White County notified dispatch of the incident which they believed had just happened.  Mrs. Gwaltney told the responding officer she'd heard a loud noise and saw a vehicle by the mailbox and someone picking up some pieces before driving off.  The report indicates the Gwaltneys were driving around looking for the vehicle when they phoned in the report and said they located a vehicle with front end damage at a residence.  The officer responded and after surveying the vehicle in question, said he was confident it wasn't involved.  Mr. Gwaltney then alerted the deputy he'd found a few pieces from the vehicle that hit the mailbox.  The investigation continues.
The White County Sheriff's office has taken reports of theft from both Crossville and Grayville.  Sunday afternoon, Andrea Ford of First Street alerted authorities of a missing generator from her father's home next door.  She says they left their residence on Friday afternoon and returned around noon Sunday.  That's when she suspects someone entered the carport of her father's residence and removed the DeVILBISS Generator.  Ford also says she has surveillance cameras but she had been unable to retrieve the recordings at the time of the report.
Then on Monday, Sergeant Craig Poole was called to 111 East Rudolph Street in Crossville to talk with Tyler Evans who says between Sunday evening and early Monday morning, someone stole his Suzuki GSXR600 Racer motorcycle.  Evans advised the key was not in the ignition.  The bike is mainly black with some red accents and it's VIN number has been entered into the LEADS (Law Enforcement Agencies Data System).  If you spot the bike, contact the White County Sheriff's office at 382 – 5321.
White County Sheriff Randy Graves took a report of Criminal Trespass, Tuesday afternoon, from Travis Gholson. Gholson said he owns a building located at 911 South Cross Street in Crossville, and he believes someone is possibly staying inside the building, as there is toilet paper and human feces inside the building.