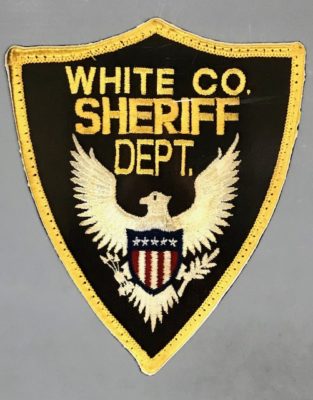 The White County Sheriff's Department received three reports over the weekend.
Just after noon on Sunday, Deputy Spencer responded to a report of a vehicle that appeared to have crashed on the northeast corner of the intersection of County Road 700 North and County Road 1450 East (Epworth Road).
Upon arrival, he saw a white 1999 Ford F250 resting in the grass with the front end facing east as it apparently struck a guide wire attached to a Wayne-White Counties Electric Co-Op utility pole.  The truck was caught on the guard wire and it appeared the driver of the vehicle tried to pull it off the wire unsuccessfully.  The guard wire was damaged, and the Deputy also noticed a small pipeline marker belonging to Country Mark Co-Op LLP had been knocked over by the vehicle.
The Sheriff's Department contacted Wayne-White Electric, who removed the guide wire, and Don's Bumper to Bumper, who brought in a tow truck to remove the vehicle.
Attempts to contact the registered owner of the vehicle were unsuccessful.  More information will be released as it becomes available.
Just before noon Saturday, 32 year old Jason R. Rockett of 401 East Locust Street Apartment 4A in Norris City reported that someone had damaged his vehicle.
The white 1999 Dodge Dakota parked in the yard in front of the apartment had a flat rear tire on the rear passenger side with a small puncture mark in it.  Rockett said he parked in the yard due to the lack of lighting in the apartment parking area last Friday night, and when he came outside Saturday morning he noticed the tire was flat.
He didn't know who may have caused the damage, but filed a report with the Sheriff's Department and said he would call them if he gets any more information.
And at about 10 AM on August 16th, Deputy Spencer met with Dennis S. Taylor, 52, of Carmi at the White County Jail.  Taylor was brought to the jail after being asked to do so in court by the sitting judge, after being presented with an arrest warrant.  Spencer presented the warrant to Taylor, who said he was aware of the charges and the $1,500 cash bond.  He was processed and held pending posting of the bond.