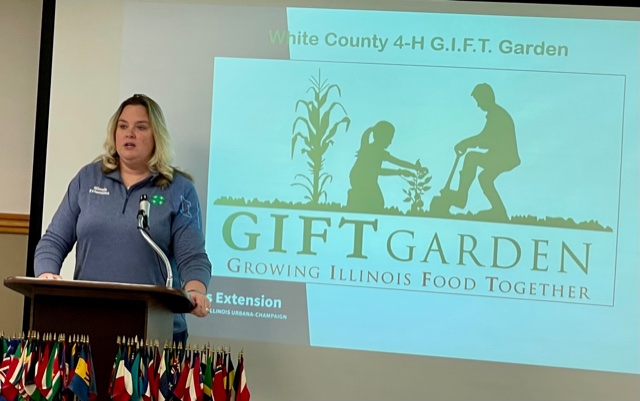 The White County 4-H GIFT Garden is about to embark on it's 7th year.  Amy McCarty, Program Coordinator of the University of Illinois Extension in White County and 4-H provided an update at the Carmi Kiwanis Club meeting Thursday.  The land, on the corner of 1st and Main, was donated for use by the City of Carmi and in 2016, the initial 4 raised beds were planted.  McCarty says the program has been blessed to receive so many donations of time, effort, services and even products.  Over the following years, expansion continued with more raised beds, more plants, and more opportunities.
The pandemic had a severe impact on the GIFT Garden shutting down most production.  Despite this, McCarty says 34 pounds of potatoes, 9 pounds of cherry tomatoes, and 5 pounds of carrots all came up volunteer and had to be harvested.  Even with the pandemic, the garden produced in total 154 pounds of produce which was in turn donated to Cherry Street and The Roads Food Pantries.
Last year, the garden got back on track including through a new SNAP Education program and Growing Together Illinois Grant.  McCarty describes the program as one that aims to increase access to food insecure communities by working with local Master Gardeners and local feeding sites to increase quality food access to low income households.
Over the last 6 years, more than 2,340 pounds of produce has been donated to area senior centers and food pantries.  Monthly community garden education events are planned for this year.  You don't have to have a 4-Her or be a kid to participate.  You can learn more, including dates for upcoming monthly events at the White County Illinois 4-H facebook page or by calling 618-382-2662.