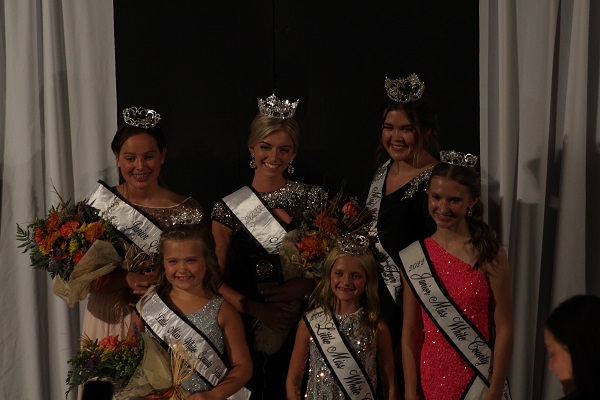 The White County Fair has 3 fresh new faces representing it.  17-year-old Brenna Russell won the White County Fair Queen pageant Monday night, joining new Junior Miss Alexandria Vaupel and Little Miss Graecelyn O'Neal.  16-year-old Jaleigh Sullivan of NCOE was named Miss Congeniality.
Russell has been busy racking up accolades.  In addition to serving as a Chamber of Commerce ex-officio, she was named Salesperson of the Year for the 2022/2023 White County CEO class.  Her business, Midwest Magazine, showcased models and photographers from across the region.  Russell graduated in May from CWCHS and will head to the University of Illinois next week to begin her studies.  She's planning to study political science with a focus on law and intends to open a private practice back here upon graduation.  She'll travel to Springfield, IL in January to compete for the State County Fair Queen title.
12-year-old Alexandria Vaupel, the new junior miss says she enjoys reading, drawing, and singing.  She's also a decorated 4-H member and a former Junior Miss Corn Day.  8-year-old Graecelyn O'Neal listed racing her dirt bike and 4 wheeler among her favorite activities along with playing softball.  "Grae" is the daughter of former White County Fair Queen Celeste (Scarlett) and Greg O'Neal of Grayville.
Judges for the pageant included Keely Epplin of Tamaroa, Stacey Jones of DuQuoin, and Terri Karch of Mt. Vernon, IL.