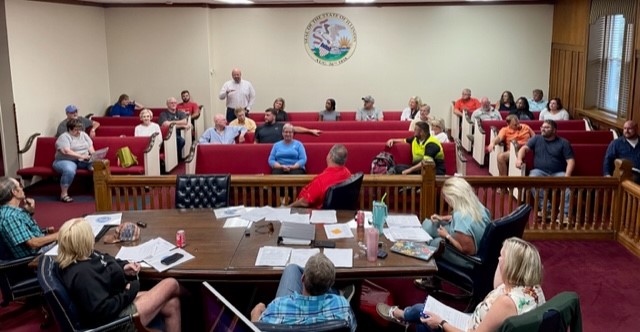 A handful of county residents, a landowner/lessee and the project manager for Invenergy agree that after weeks of aggravation and high anxiety, things around the solar farm being built in the Centerville area are getting better.  Brooks York, Craig Williams, Martin Rae Barbre, and John Stockton all spoke up at the White County Board meeting Tuesday night.  A month ago, Stockton was vocal about the state of the roads, the speed at which workers were traveling, and the disruption from noise that affected third shift workers in his family.  Since speaking with Matt Julson, project manager with Invenergy, all 4 men said that things had gotten much better, though Stockton says his family lost a dog that was hit by a worker's truck.  York suggested a committee be formed made up of residents, landowner/lessees, a county board member, and an Invenergy representative.  Julson says he appreciates the community's feedback.
"We understand that when we come into these small communities, it's pretty shocking.  We come in with an army of folks and you're not used to it.  Starting out projects, we gotta get to know each other and learn expectations.  I think our contractors are figuring out what we expect.  I think it is getting better.  As far as that committee goes, we're neither for or against.  It's up to you guys.  If it's something you want to do, we'll participate if you deem that necessary.  I'd say give us another month and we'll be pretty solid out there.  Our guys will be in line.  We're gonna have bad eggs, but we've got to weed them out."
Chris Birkla, who serves as the White County representative on the Rides Mass Transit Board gave the board an update and wanted to reinforce the services the organization provides and correct some misconceptions.  With the fiscal year ending, Birkla says Rides made 9,950 trips in White County, down slightly from 10,797 trips.  She says the board is working hard to improve efficiency of routes reducing trips and miles while increasing ridership.  Learn more at http://www.ridesmtd.com.
A building committee meeting preceded the county board meeting in which members continued to discuss square footage needed for offices and courtrooms in a proposed new courthouse.  The group also talked about funding options.  About $680,000 remain from the Energy Transition Grant that representative Dave Severin's office helped White County get ahold of.  Treasurer Mike Baxley says there are some funding options that look promising.  The building committee will meet again at 8:30am prior to the next county board meeting, a day meeting in September.
Lynn Schanzle was appointed to the Egyptian Health Department Board.  The board approved payment out of ARPA funds for repairs and work done at the Sheriff's Department and Jail.  Pawpaw Solar asked for an appeal after the board last month voted against giving a permit.  Following discussion of statute, the permit was granted with board members Amanda Cannon and David South voting "no".  The land in question for the proposed solar project is completely owned by a single landowner.  Board member Ken Usery says no government should be allowed to tell an individual what they can or can't do on their property so long as it's not illegal.  Board member Amanda Cannon says, "I'm not being contrary and I do agree.  As far as me representing people in Indian Creek, I've most had people telling me they don't want it there.  Furthermore, the people that own this; they don't live right there, they don't live here.  That's my complaint with it.  I get it.  I'm not for telling people what they can do with their land."
The county board went into Executive Session just after 8pm to discuss litigation with no expected action to follow.