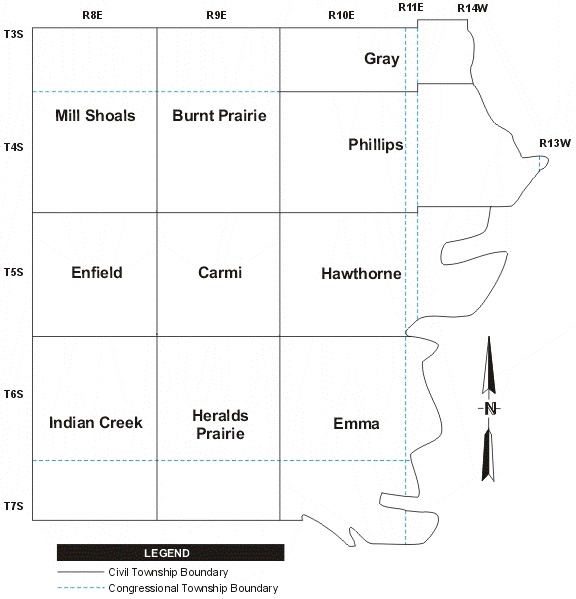 The White County Board adjourned just 20 minutes after gathering for their 7pm meeting Tuesday night.
County Clerk Beth Sell reminded everyone that while the clerk's office has been mandated by the state to mail out applications to vote by mail, that it is in no way being suggested by her office that is how voters have to engage in selecting their political choice.  She says you are welcome to completely disregard the application you'll receive in the mail and simply vote at your home polling place on Election Day, you can vote in person, often called Early Voting, at the White County courthouse in advance beginning Thursday, September 24th, or you're welcome to return the application you receive in the mail and you'll receive a ballot at home to mail in.  She also says while the mandate was to mail those applications to every voter who has voted in any of the last 3 elections, her office has decided to send the application to everyone who is registered to vote in the county to ensure that everyone who can vote gets one.  The cost to mail the application is only around a quarter each.  Any questions you may have can be answered by calling the County Clerk's office at 618-382-7211 Ext 1.
There were no reports from the Circuit Clerk, State's Attorney, or Supervisor of Assessments as those members were absent.  No oral report was given, but a written report was provided by the Sheriff's office and the County Treasurer.  We didn't get a copy of the Treasurer report until late Wednesday morning, but the Sheriff's report indicates the White County Jail had 73 inmates at the time of the report's generation, only 20 from White County, 40 federal inmates, 3 from Hamilton County, and 10 from Edwards.  The Jail reported income during the month of June in the amount of $71,524 with more than $67,000 of that coming from the US Marshall's office for housing federal inmates.  Jail expenses in June came in at just over $38,000.  Half of that was for food with another near $10,000 being for medical and dental needs.  The Sheriff's Department reported a total of 412 service calls during the month of June including 8 welfare checks and 8 abandoned vehicle reports.  Deputies investigated 3 suicides and were forced to respond to nearly 60 9-1-1 hang-up calls.  Over the month, only a solitary traffic citation was issued, but there were 2 criminal arrests and 12 warrant arrests.
White County Ambulance Director Adam Allen says his department turned in a near $3,000 profit for June.  He says next month, the department is anticipating some larger expenses which will affect his profit/loss including about $9,000 plus a transmission went out on one of the ambulances which will most likely be costly.  Both of the county's ambulances have more than 300,000 miles on them.  The Ambulance committee is continuing to look at options for the future.
Coroner Chris Marsh gave kudos to law enforcement and ambulance personnel for their work on a couple of gruesome accidents recently.  He also praised two preachers who happened to be at the accident at Rock Bottom which claimed a life.  He described it as divine intervention having both Kenny Rager and Michael Krohn on site by chance so that they could be with the families of those involved in the crash.
Brian Ray of the Highway Department commented they should be finishing up the safety project on the Herald Blacktop in the coming days.  EMA Director Patrick Scates said he had been ordering quite a bit of Personal Protective Equipment and had a good stack at the moment.  He was relieved to know that the state wouldn't be relying on EMA Directors to facilitate back to school PPE needs saying they had another plan in motion for that.  County Board Chairman Donnie Puckett reported a County 9-1-1 meeting was coming up on Monday.
The County Board unanimously approved the appointment of Tim Scates to the Farmland Assessment Review Committee to fill the vacancy created by Charles Pfister.  Additionally, the board approved a Proactive Health Management Plan through Sheffer Insurance Agency.  Board member Ron McAnulty commented the plan saves employment taxes for the county and is a Section 125 plan.  Furthermore, the company estimates the county could save up to $20,000 if all employees signed up.
Board members tabled a "Resolution for First Responders to be placed as a referendum question" on the November ballot saying they needed to get numbers prepared to present to the board on that front.
Additionally, the board passed a common sense Fair Housing Ordinance.  Highway Engineer Brian Ray said it was necessary for the department to gain access to the REBUILD IL Public Infrastructure grant they'd applied for.  If received, Ray says those monies will be used on the Sacramento Road Project where the suspected solar farm is expected to be built.
The White County Board will reconvene on August 11th at 7pm in the upstairs White County Courthouse court room A.