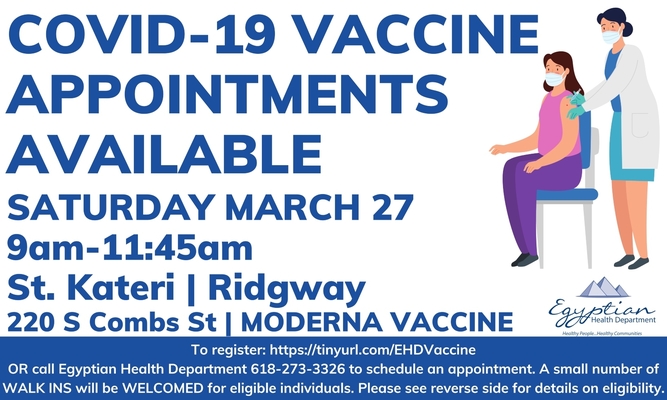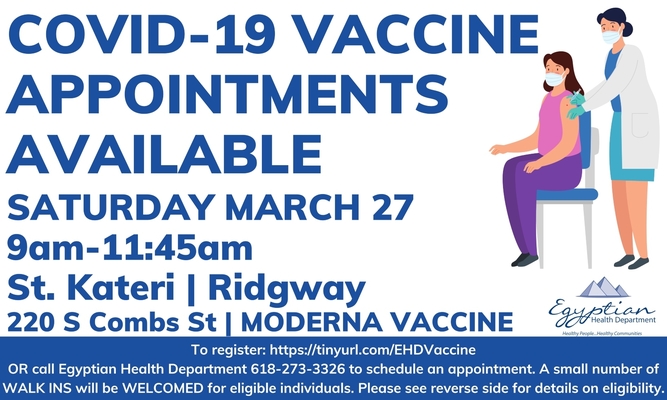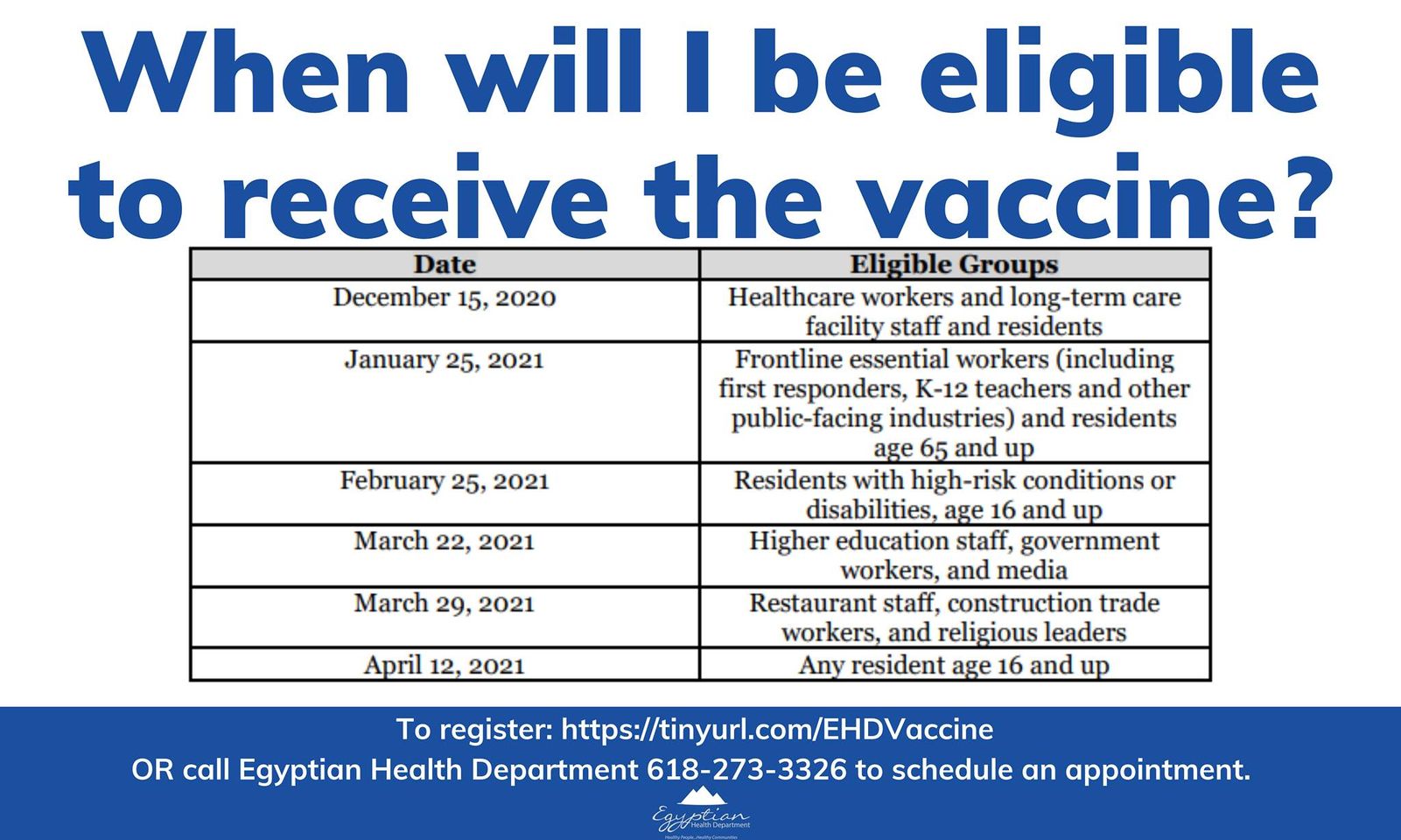 As of Monday, March 22, higher education staff, government workers, and media are eligible for vaccination at the more than 900 location in the state's provider network.
Beginning Monday, March 29, food and beverage workers, construction trade workers, and religious leaders will be eligible for the COVID-19 vaccine.
If you live or work in Saline, White or Gallatin Counties, you can use the following link to see upcoming vaccine clinic opportunities. Other Method: Call our Eldorado office 618-273-3326.
_______________________________________________________________
The Illinois National Guard and Jackson County Health Department are hosting Regional COVID-19 Vaccination Clinics weekly . All Phase 1A, 1B and 1B+ Illinois residents are eligible make appointments. There is an increased chance of receiving an appointment versus waiting for a local clinic.
Please click this link to make an appointment:
https://www.jchdonline.org
Other local places to look for vaccines:
Kroger, Walgreens, Wal-Mart, Harrisburg Medical Center, Christopher Rural Health Clinic/Eldorado Rural Health, Southern Illinois Healthcare and Ferrell Hospital. Check out their websites and/or social media accounts for more info on vaccine opportunities!
*Phase 1B+ — Persons aged 16 to 64 years with medical conditions that increase the risk for severe COVID-19. Conditions include Obesity, Diabetes, Pulmonary Diseases, Smoking, Heart Conditions, Chronic Kidney Disease, Cancer, Immunocompromised State from a Solid Organ Transplant, Sickle Cell Disease, Pregnancy, and Persons with Disability (Not otherwise covered in previous categories.)
Vaccine Finder:
The Illinois Coronavirus website has a vaccine location map to help find the nearest vaccine opportunity near you, please visit https://coronavirus.illinois.gov/s/vaccination-location to search for vaccines in the area.
Hamilton Memorial Hospital is scheduling weekly vaccine clinics in McLeansboro and Carmi; people can call 643-5859 and leave a message with their information so the hospital can call back to check for eligibility and to set an appointment. People can also visit hmhospital.org/vaccines for more information.
Fairfield Memorial Hospital has been selected as one of the few select Critical Access
Hospitals in the State of Illinois as part of the State's continued efforts to improve
access to COVID vaccinations. With this program, anyone that falls into the Tier 1A and Tier 1B category, which includes anyone over the age of 18 with chronic health
conditions or works in an essential field of work and resides in the State of Illinois,
regardless of what county they live in, can take advantage of this new program.
"Fairfield Memorial Hospital is proud to have been selected by the Governor's office
for this project. As one of only 9 other rural hospitals in the State of Illinois to be
selected for this program is the result of our continued efforts to help provide access to vital medical care in rural areas. We hosted our first clinic through this program on March 12th, during which we administered 300 Johnson and Johnson COVID vaccinations to participants. We had several participants who traveled from over 90 miles to receive this vaccination as they have not been able to obtain it in their area due to a lack of vaccination clinics. This demonstrates how great the need is for improved access to the COVID vaccination is in our State for those who want to receive this service. We will be scheduling multiple COVID vaccination clinics in the very near future as we hope to continue to progress towards a brighter future beyond this pandemic." stated FMH CEO Katherine Bunting-Williams.
The COVID vaccinations will be administered by appointment only through the Fairfield Memorial Hospital's Medical Arts Complex in Fairfield so that people receiving the vaccine will have access to restrooms while they wait for their vaccine and during the recommended monitoring period after receiving the vaccine. At the end of the recommended monitoring period, patients will be provided a drink and a snack bag to take home with them. FMH Plant Operations staff will also be offering valet parking and shuttle service in the parking lot to anyone that has trouble with mobility. You do not have to be a patient of Horizon Healthcare to receive this vaccination.
Fairfield Memorial Hospital will continue to keep the public posted via local news and social media forums about upcoming COVID-19 vaccination clinics.