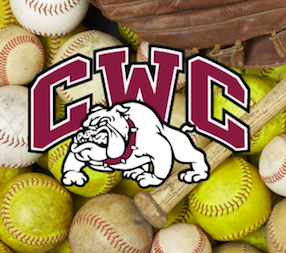 The Carmi-White County Lady Bulldog softball team swept Eldorado in a doubleheader on Tuesday afternoon, dominating in both games, winning 17-0 and 8-2.
In Game 1, the bats were hot from the get-go.
The Lady Dogs plated 7 runs in the top of the 2nd inning after Mattie Pringle brought in a run after she reached on an error. Kadie Simmons then brought in another with an RBI groundout.
RBI doubles by Mia Evans, Audrey Upton, Addi Elliott and Alayna Johnson put the Lady Dogs in front 7-0.
The Lady Bulldogs followed that up with an 8-run 3rd inning that began with an RBI double by Kadie Simmons. Addi Elliott and Mara Serafini both picked up RBIs with bases loaded walks to make it 10-0 CWC.
Alayna Johnson then cleared the bases with a 3-run double, followed by a home run by Kassi Milligan to extend the Lady Bulldogs' lead to 15-0 after just 3 innings. 
Carmi added 2 more in the top of the 4th inning on an RBI double by Milligan as the Lady Dogs would go on to win Game 1 by a final of 17-0.
Audrey Upton threw her first no-hitter of the season, which was also a 4-inning perfect game for the CWC junior with 8 strikeouts.
At the plate,
Audrey Upton: 1-for-2, RBI, 3 R
Addi Elliott: 1-for-3, 2 RBI, 2 R
Mara Serafini: RBI, R
Alayna Johnson: 3-for-3, 3 RBI, 2 R
Kassi Milligan: 2-for-3, 4 RBI, 2 R, 2R-HR (2)
Caroline Simmons: 1-for-3, R
Mattie Pringle: 1-for-4, RBI, R
Kadie Simmons: 1-for-3, 2 RBI, R
Mia Evans: 3-for-3, RBI, 3 R
In Game 2, it was much of the same for the Lady Bulldogs.
After Eldorado scored a run in the top of the 1st inning, Carmi answered with 3 in the bottom half of the 1st thanks to a 3-run home run by Mara Serafini, putting CWC up 3-1.
Carmi then scored 5 in the bottom of the 3rd inning after Lily Ballard reached on an error that scored a run, Gracie Allen was walked with the bases loaded, an RBI single by Addi Elliott, and a bases loaded walk from Kassi Milligan. 
That put the Lady Dogs ahead 8-2, and they went on to win by that score. 
Kadie Simmons pitched the complete game for CWC in Game 2, allowing just 2 runs on 2 hits while striking out 10 Lady Eagles. 
At the plate,
Addi Elliott: 1-for-2, 2 RBI, R
Caroline Simmons: 2-for-2, R
Mara Serafini: 1-for-3, 3-R HR (3)
Kassi Milligan: RBI
Lindsay Simmons: 1-for-2
Gracie Allen: 1-for-2, R
Mia Evans: R
Lily Ballard: R
The Lady Bulldogs improve to 11-7 on the year and 7-1 in the BDC East. 
Carmi will have the rest of the week off, they are scheduled to travel to Robinson on Saturday weather permitting.
Black Diamond Conference-East Standings:
Carmi-White County: 7-1 (11-7)
Flora: 6-1 (13-4)
Fairfield: 5-2 (13-6)
Hamilton County: 3-4 (9-8)
Edwards County: 1-6 (8-10)
Eldorado: 1-7 (3-11)