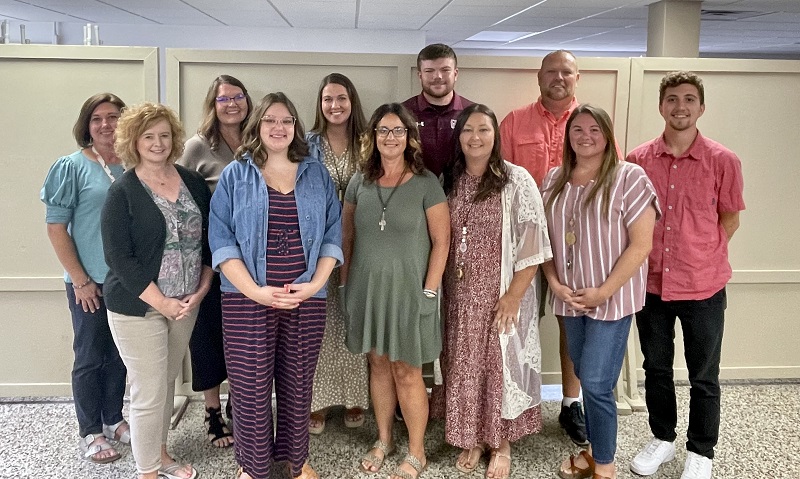 Carmi White County Unit 5 Superintendent Jarrod Newell says the district isn't off to a good start.  They're off to a great start and he says the district is blessed to have such a supportive community.
"It's gone really well and it goes really well because of the people that we have in our buildings.  It goes well because of the great students and families and community members we have.  As I look out here in the audience at how many people representing so many organizations here and the things that you do for the kids and schools in our community, we are truly blessed to have so many people who take care of each other, our kids, families and helps each other out."
Newell was in charge of introducing building administrators Thursday at the Carmi Kiwanis Club as part of the new educators program.  Unit 5 has a total of 12 new to the district certified staff members.  Those new educators are part of about 235 certified and support staff throughout Unit 5 serving approximately 1,300 students.  Brownsville principal Kathy Price introduced Jana Bradshaw and Kelsey Hall.  Bradshaw is a Carmi native and though new to the district, she's entering her 24th year, the last 23 in Gallatin County.  Hall is a sophomore/homeroom teacher at Brownsville and while new to being a certified staff member, she's been at Brownsville for the last 9 years.
Whitney McGuire, though better known locally as the future Mrs. Cole Carter (the two are due to be married on October 7th) is an Eldorado native and after spending last year at Grayville is entering her first year as a Kindergarten teacher at Lincoln.
Lacey Moore introduced Mt. Carmel native Demi Beuligmann as the new music teacher at Lincoln, Jefferson, and Washington.  She's entering her 4th year in education.  Moore says the PBIS program has been revamped (Positive Behaviors Intervention and Support) and is centered around BARK.
"(Be a Bulldog, Always give your best, Remember safety, and Kindness matters) and our staff and kids are doing a great job with that already this year."
Moore is the new Title 1 Director and Grant Writer as well.  She says while she has a lot to learn still in that position, the district has received a grant that will pay dividends especially for new educators.
"So all 12 of our new teachers are paired with an in house mentor so they get a year of mentoring and then our 6 that are new to teaching are also going to get an instructional coach.  Alex Aud and Amy Rice…you may remember those names as Kiwanis Educators of the Year…have agreed to be our instructional coaches for this year and we're excited for that opportunity to support those that are newest to our district and in education."
Corey Ackerman is in her first year as a building administrator at Washington and has the most fresh faces.  Kelsey Rankin, Mary Pool, Ashley Westfall, Teresa Scroggins, and Samantha Sutton are all new to Unit 5 this year.  All but Rankin have Norris City ties with Pool, Westfall, and Scroggins all coming from NCOE.  Sutton lives in Norris City, but has taught the last 16 years in Union County, Kentucky.
Todd Haley heads up the CWC Junior High and is also the Director of Technology for the district.  He welcomes a former student (when he was at Norris City) Jacob Bridges to the team.
Bart King, the CWCHS Principal welcomed Chad Whitley and Travis Black.  Whitley is working in Building and Trades and comes to the district with over two decades in construction.  He says the goal is to eventually have students flip a house or even potentially build a house or homes from the ground up.  Black is teaching high school science.
Coming up next week, Kiwanis members will be treated to hearing from Bulldog football coach, Kurt Simon.