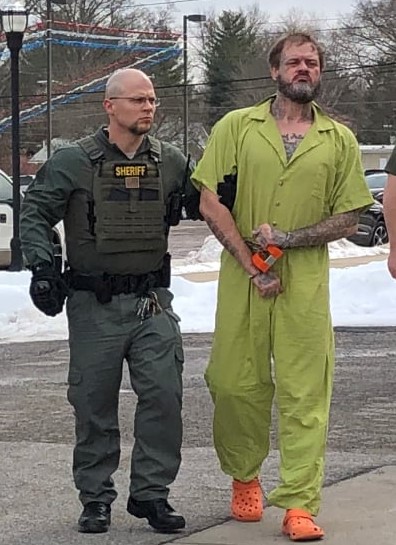 courtesy of sister station WFIW/WOKZ News' Jeff Vaughan
40-year-old Ray E. Tate was sentenced to natural life in prison without parole today in Wayne County Circuit Court. He pleaded guilty last month to the first-degree murder of Wayne County Deputy Sean Riley, who was operating in the course of his official duties.
The sentencing hearing today lasted about three hours, with State's Attorney Kevin Kakac and Assistant Attorneys General Michael Falagario and Myra Yelle-Clark calling eight witnesses to testify. The court also allowed footage to be shown from two body cameras, including that of Deputy Riley the morning of his murder. Public Defender Heidi Hoffee objected to the showing of the evidence and the witness testimony, saying the sentence is a mandatory one due to the nature of the offense, so the judge has no discretion. Her objection was overruled by Judge Michael Molt.
Before the sentence was announced, Hoffee also claimed a term of natural life in prison violates the Constitution and Illinois law, as it is not intended to re-integrate the defendant into society. Judge Molt read Tate his appeal rights, saying any appeal must be filed in a written motion to a trial court within 30 days if he wishes to appeal. The sentence is to take effect immediately, and Tate was remanded to Jefferson County officials for transport.