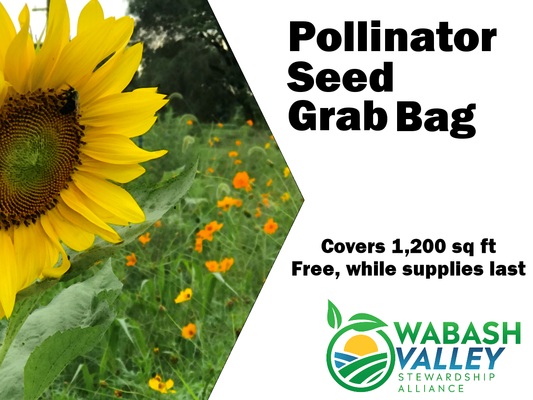 The members of the Wabash Valley Stewardship Alliance group have organized a giveaway of free pollinator seed for this spring. Each pollinator seed bag contains 1 full cup of seed, which is enough seed to cover a 1200 sq. ft. area. The White County Farm Bureau has 25 bags to distribute, free of charge, until supplies run out.
The pollinator seed blend, donated by Wabash Valley Service Company, includes popular flowering species such as Forget-Me-Not, Wallflower, Coneflower, Poppy, Coreopsis, Aster, Baby Blue-Eyes, Alyssum, Aster, Daisy, and Sunflower.
In order to have a successful pollinator garden, here are a few recommended steps to follow:
1. Identify a suitable location with at least 6 hours of sunlight each day.
2. Lightly work the top 2"-4" of soil. You must have at least 50% bare ground for good soil-to-seed
contact.
3. Broadcast the seed on bare ground; plant the seed no later than May 30.
4. Compress the seeds into the soil by walking directly on the planting area or by using a roller. Never
bury or cover wildflower seeds with soil (they will be planted too deep.)
5. Water so that the soil is moist, not soaking wet, until seedlings are 4"-6" tall.
6. Once your garden is established, take a picture, and send it to your county Farm Bureau office to receive a free sign for your garden.
The Wabash Valley Stewardship Alliance is a coalition of nine county Farm Bureaus, Wabash Valley Service Company, and the Agriculture Department of Wabash Valley College who have come together to develop various nutrient stewardship projects in southeastern Illinois.