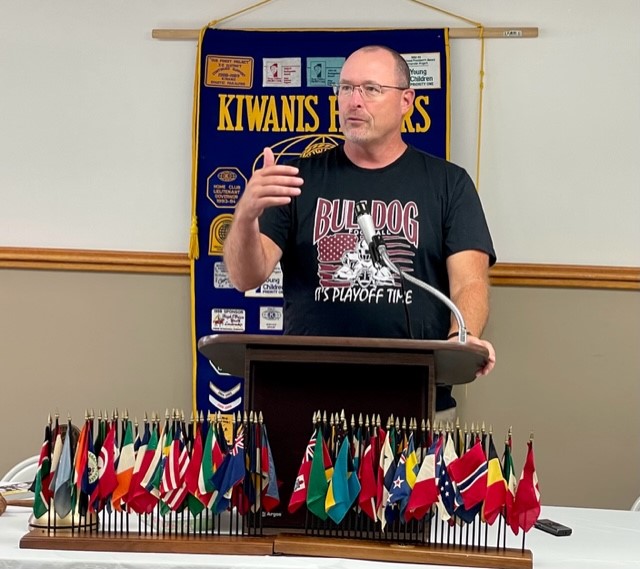 Coach Kurt Simon says his football team's toughest challenge may be coming up Friday night as the Dogs host Sesser-Valier.  Simon made the annual trek to Carmi Kiwanis on Thursday to talk about the football program.  Simon lays out the rest of this year's campaign…
"Sesser-Valier, they're undefeated as well right now and they probably have the best two players in the conference so our challenge will be a big one Friday night.  Then we go to Fairfield next week and Christopher the week after.  We're home after that for Homecoming against Edwards County and we'll finish the season with Johnston City who was the conference champ last year and they've come back with a really good team this year."
It's a down year for players at CWCHS.  Only 31 players total dress for varsity and Simon says that includes 5 freshmen.  That means he has to rely on several of those players and upper classmen to play both offense and defense.  Nelson Rider and Gavin Peyton anchor the Guard positions.  Austin Owen is moving to Center following a wrist injury to Konner Buchanan.  Eli Bryant, the 6'1", 310 pound Junior holds down the Left Tackle position and Dakota Southerd, a 6'1", 235 pound Sophomore will take Owen's spot at Right Tackle.  Kade Stockton and Trayton Vickers are starting Tight Ends.  Landon Driscoll is featured at Quarterback and Coach Simon's hallmark Wing-T is made up of options with Running Backs Caleb Seibers and Noah Pollard along with Fullback Andrew Dodgson.
On defense, many of the same names show up again with Dodgson and Stockton at Defensive End with Bryant, Rider, and Peyton at Tackle making up the line.  Seibers and Pollard roam as Linebackers and coverage is made up of Safeties Driscoll and Allen.  Trayton Vickers plays Cornerback as does Kale Wiggins.
The Bulldogs are coming off a rare Week 3 bye after Vienna-Goreville for the second time in just a few years determined they couldn't field a football squad.  When asked about the future of Black Diamond Conference football and more specifically V/G, Simon says it's been frustrating and difficult.
"We found out this year that actually where they put their football field is in a flood zone.  They've had football for a number of years now and we've always asked them 'when are you guys gonna get lights' because playing on Saturday afternoon at the end of August is difficult on people.  They kept hemming and hawing around and then we find out a month ago at our Athletic Director meeting that they can't put lights on their field because part of the field is in a flood zone."
Simon says it puts other BDC teams in a bind because they're looking for playoff points.  Usually, if you win 5 games, you're in.  Playoff points are the number of wins by your opponent so if you have a team that forfeits the season, it affects your standing no matter how many wins you rack up.  There is at least one team that's interested in getting out of the conference they're in and moving to play Black Diamond football.
"West Frankfort is really pushing, they'd like to get out of the Southern Illinois River to River and try to get into the Diamond.  It's kind of a complicated issue…as far as when that would happen and the time frame, but I would guess within a couple years, we would know."
If you can't make it to the games, you can catch every Bulldog football game on the radio at 97.3 WRUL.  You can also watch games from the comfort of your phone or any smart tv at no cost through the WRUL Sports YouTube channel.