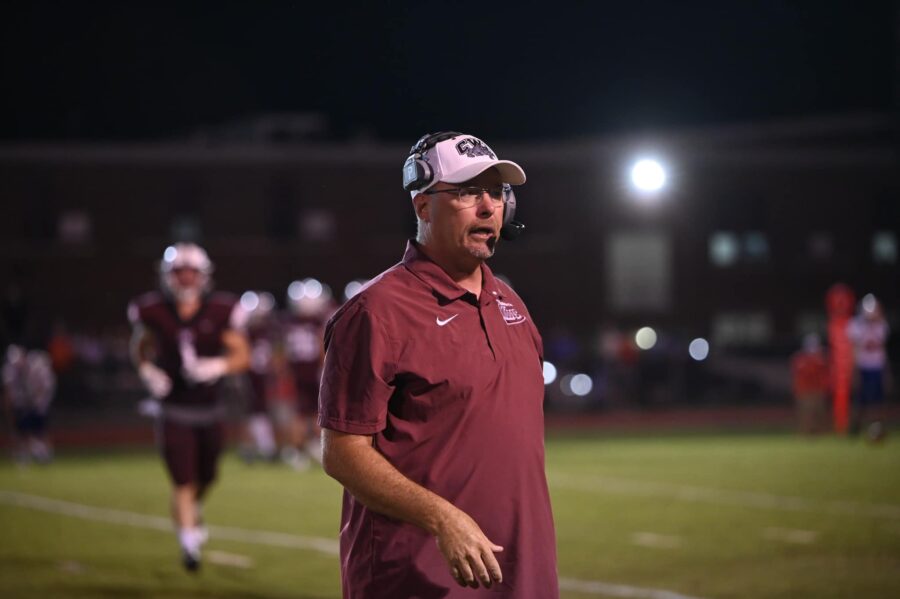 Carmi-White County head football coach, Kurt Simon, has been named to the Illinois High School Football Coaches Association Hall of Fame for the Class of 2023.
When Kurt Simon walked onto the campus at Carmi-White County High School in 1997, the Bulldogs had not had a winning season in 13 years, and had not made the playoffs in 22 years.
In 1999, Simon took the Bulldogs to the playoffs for the first time since 1975 for the first of three consecutive seasons with a playoff appearance.
In 2003, the Bulldogs went undefeated, won the Black Diamond Conference in their first year in the league, and won their first playoff game in school history. The first of a five-year playoff run, which featured two conference championships, two undefeated seasons, and two trips to the IHSA 3A Quarterfinals.
In 2011, Carmi finished undefeated once again with another BDC Championship.
In 2012, Simon collected win number 100 in a 22-18 win over Fairfield in week 5.
In 2013, the Bulldogs not only made the postseason, but they upset Chester in the first round of the IHSA 2A Playoffs, 30-25.
In 2014 and 2016, Simon coached his oldest son, Jake, to the playoffs.
In 2021, Simon coached in youngest son, Luke, to the playoffs.
In 2022, Simon picked up his 150th career win by defeating Fairfield yet again in week 5, 38-12.
In total, Simon has won 152 games in his Bulldog coaching career, which has featured 17 playoff appearances, 3 Black Diamond Conference Championships, 3 undefeated regular seasons, and countless memories.
And now, he can add Hall of Famer to his resume.
Congratulations to Kurt Simon for a much deserved accolade. One of the best to ever do it.