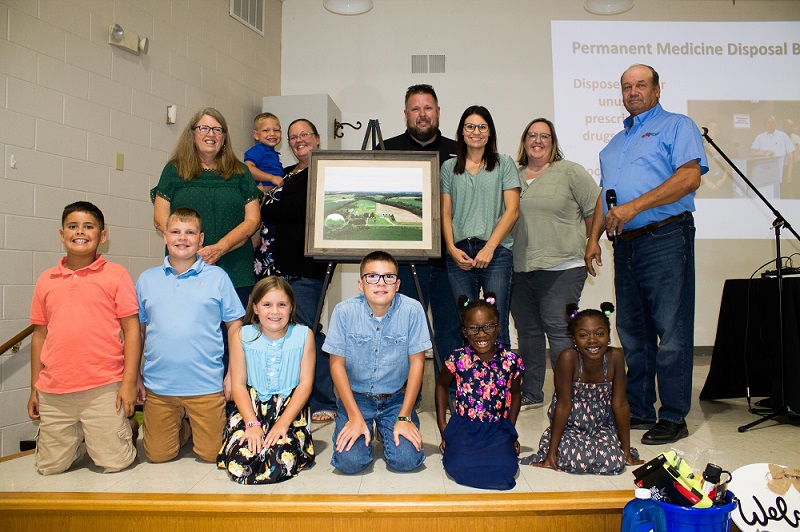 The Wayne County Farm Bureau is pleased to honor the Shreve Family as their 2023 Farm Family of the Year. The organization made the announcement at the member Appreciation Dinner last month.
In 1989, Mike and Sharla opened Shreve's Pumpkin Patch. For the first few years of this new venture, Mike continued to work off the farm as the parts manager at the Farm Way dealership as well as trucking for the local gas company. After Mike's father passed away, he returned to the family farm full time.
Shreve's Pumpkin Patch has become a fall tradition for many families throughout Wayne and surrounding counties. They host countless school field trips, church gatherings, birthday parties, teacher training, and family fun days. Their agri-tourism operation includes an extensive corn maze, you-pick pumpkin field, a large selection of children's books, hay rides, fresh produce, and Sharla's famous Pumpkin Roll. They also built a rental venue and served breakfast for many years on Saturday mornings.
Mike was a pillar of the West Antioch Baptist Church in Mill Shoals for many years. He served on the church's leadership as well as preached on many Sundays.
On December 22, 2022, Mike suddenly passed from this life into the next. However, Mike's devotion to his family and his profession has left a lasting impact on several generations of individuals in our community. Through the efforts of Sharla, Matt, Ashlee, and the rest of the family, Shreve's Pumpkin Patch will continue to be an agri-tourism destination for Wayne County families for many years to come.
For being selected as our 2023 Farm Family of the Year, the Shreves received a framed aerial picture of their farm and a $100 gift card to a local restaurant.
In the spring, the Wayne County Farm Bureau asked members to nominate families they felt made a significant impact on agriculture and the community. The Shreves were selected from several nominated families by a group of county Farm Bureau leaders outside of Wayne County. The Wayne County Farm Bureau would like to thank Derek Dunn for assisting us with taking the farm picture.