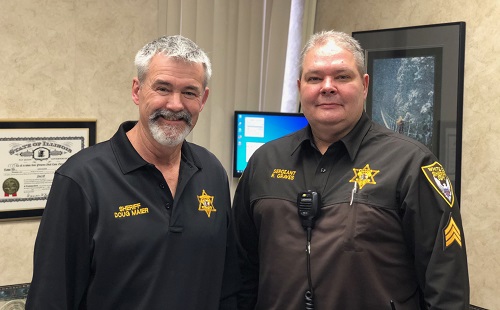 White County Sheriff Randy Graves took some time to update the county board earlier this week on employment status within his department.  Dating back to March of 2020, the department was staffed with 6 deputies plus the Sheriff, Doug Maier at the time.  Fast forward to July 13th, less than 4 weeks from now, Deputy Scott Cantrell is retiring which will drop the department down to 3 deputies and the sheriff himself.  To address the shortage, Graves says he's made some hires.
Graves says to help alleviate some of the issues being shorthanded, he's brought in Dustin Dale from Norris City part time and Carmi Police officer Jonathan Lucas has been helping fill in.  If they can make it until December, Graves anticipates having himself, Craig Poole, Jordan Weiss, Justin Spencer, Matt Wicker, and new deputy Mike Brown.  That will still leave the department one down, but Graves says since they're not in the Southern Illinois Drug Task Force anymore, it should be doable.
Beyond that, Graves is suffering from shortages at the White County Jail.
Schooling for the Corrections Department is about 5 weeks while police academy for the new deputy will take about 14 weeks.