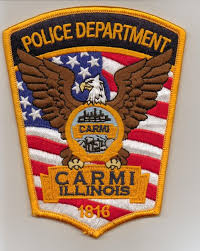 Schepp Busted Following Crash
A Carmi woman remained in custody Tuesday morning following her weekend arrest after she left the scene of a traffic accident.
Heather D. Schepp, 42, of 203 East Webb Street, was arrested for driving while license suspended, leaving the scene of a motor vehicle accident and possession of methamphetamine following the crash that occurred at the intersection of Church and Webb streets. She is also facing a charge of possession of drug paraphernalia.
She was cited for failure to yield turning left and operation of a vehicle displaying expired plates.
Schepp was arrested shortly before 11:30 Saturday morning.
Sunday, local police arrested 32 year old Nickolas A. Hays, of 1304 Oak Street on a charge of criminal trespass to real property.
According to the incident report, Hays was arrested for being on the railroad track bridge over the Little Wabash River. The report noted two trains had to stop at different times due to Hays allegedly being on the tracks.
Bond was set at $100 following Hays arrest around 9:30 Sunday night.