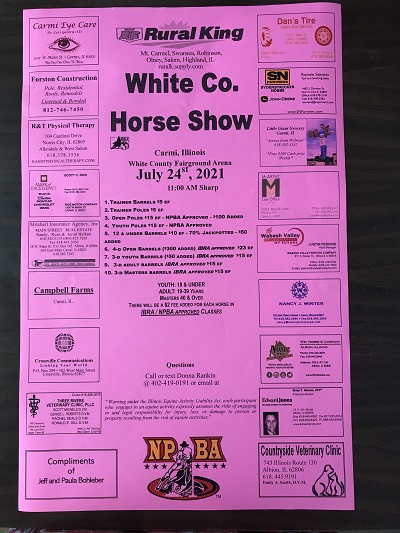 Saturday Horse Show
Area residents, who say they can't find anything to do this coming weekend, might want to think again, as there are lots of on-going events ranging from fairs to a hog roast in Grayville to a village celebration in Omaha to a giant horse show at the White County fairgrounds, here in Carmi.
The horse show action will get underway at 11 a.m. sharp according to organizer Donna Rankin, who has hosted the horse show a number of times over the years at the fairgrounds.
As per the case with most horse shows there are a number of competition events including trainer barrels and trainer poles; open poles, youth poles, 12 and under barrels, 4-D open barrels, 3-D youth barrels, plus 3-D adult and master barrels.
Youth are 18 and under; adult 19 to 39 and masters are 40 years and over.
Entry fees vary depending upon the event with several events paying cash prizes for the winners.
Everyone is invited to come out and watch the action, beginning at 11 Saturday morning and continuing into the late afternoon.
Riders and others needing additional information may contact Rankin at 402-419-0191.