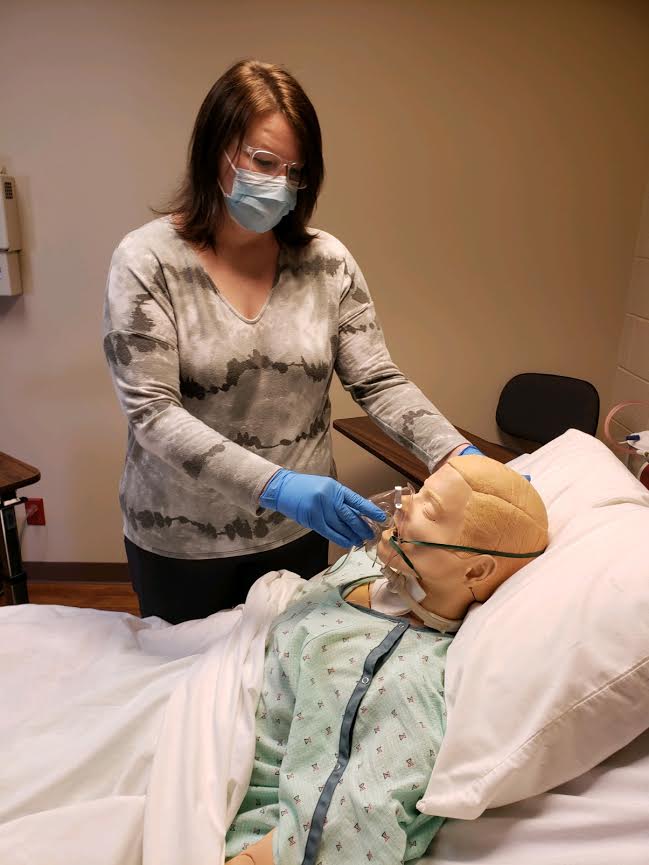 Jennifer Best, a second-year RLC nursing student from Bluford, practices checking on a patient during one of her labs this spring semester. Clinicals are one of the first opportunities for students to learn about their profession.
Before they scrub in for their first job, nursing graduates at Rend Lake College spend hours practicing their profession at clinical sites.
Despite the problems that came out of the COVID-19 pandemic, the strong ties between clinical sites and the college have made it possible for these students to complete this vital hands-on training. Starting with the first year of the associate degree curriculum, it emphasizes critical thinking and clinical reasoning with assignments at various local sites.
The clinical program at RLC offers an opportunity for students to put the course materials into action and work alongside local healthcare professionals at area sites.
"The clinical sites are absolutely invaluable to the clinical instructors and nursing students," RLC Director of Nursing Dr. Susan Wiley said. "The ability for nursing students to work side-by-side with clinical instructors as they assist them through key clinical components and are able to correlate what they have learned in the classroom is invaluable."
In the supervised learning environments, RLC nursing students hone skills under the watchful eye of tenured professionals at several sites. Those sites include SSM Health Good Samaritan Hospital and Crossroads Community Hospital in Mt. Vernon, Hamilton County Memorial Hospital in McLeansboro, as well as several others.
When the COVID-19 pandemic hit, RLC classes were placed entirely online. Nursing students are now back at their clinical sites, following safety protocols and wearing masks while they learn from nurses and supervisors practicing in the field.
Lisa DiMarco is the Chief Nursing Officer of SSM Health in Southern Illinois. DiMarco said she was impressed by how the medical and college communities were able to collaborate during the healthcare crisis.
"COVID was unexpected for all of us," DiMarco said. "Watching how our system came together with all of the community partners, including the schools, was just remarkable. How quickly we as a community managed all of the things that came our way has just strengthened us."
The profession of nursing has a long history of mentoring and building up others, with hands-on training dating back to the Revolutionary War, when then General George Washington asked Congress for nurses to take care of sick soldiers. Matrons were brought in to supervise.
"It's quintessential," DiMarco said of the clinical program. "It's important that we partner as much as we can around these students. I always ask the new nursing staff members we hire: 'What brings them joy?'  I think it's important for nurses to understand what brings them joy, because the work is increasingly difficult… We want to make sure they are taking care of themselves emotionally, physically and spiritually."
The call to the nursing field is a strong one. Clinicals are one of the first chances students get in scrubbing in and helping out those in need. It is also their first opportunity to see what their future profession will look like.
Kelsey Hill, a first year student from Mt. Vernon, has a bachelor's degree in business but she always felt the call to nursing. She wanted to go into the field when she saw the care her 3-year-old son Lukas received during his wellness check ups.
"I love the clinicals and the hands-on experiences," Hill said. "The nurses at Crossroads have really helped us out to get the total clinical experience."
Hill said she is excited about getting the chance to continue her studies outside the classroom and inside the real work environment. Hill is looking forward to her next rotations in obstetrics and gynecology, which will allow her to work in other areas of medicine.
"My main motivation is going into pediatrics," she said. "Because even though the patients are sick, we are the ones who can help them feel better."
Jennifer Best worked as an emergency medical technician for 12 years. She is a second-year nursing student who lives on a farm in Bluford with her fiance and fellow RLC student Garrett Rightnowar. When she is pinned at graduation this spring, Best will be fulfilling a lifelong ambition to become a nurse.
During her first year in the program, instruction had to be changed due to COVID-19 restrictions.
"When the pandemic hit, the instructors did their best under the circumstances to still provide us with the best education possible," Best said. "When we were able to go back to the hospital, we were so relieved."
Best said the clinicals offered through RLC provide a glimpse into how to work in different healthcare offices and scenarios.
"What I like about clinicals is getting the chance to see everything as a whole," she said. "Being able to be in the hospitals and see nurses treating COVID patients is mind-blowing. I think the college has done a great job in preparing us."
It is now more important than ever for healthcare providers and facilities to hire candidates who can deliver high quality care to their patients.
"We are very fortunate to have such a great health care community to collaborate with the nursing program to assist the students and their preparation for the future," Wiley said.
Hill said she is looking forward to continuing her education through the nursing program.
"I think the nursing program is going to keep getting better," she said. "We are still able to get all of our labs done each week."
The RLC Nursing program is accredited through the Accreditation Commission for Education in Nursing (ACEN). For more information about the program, visit rlc.edu/nursing.