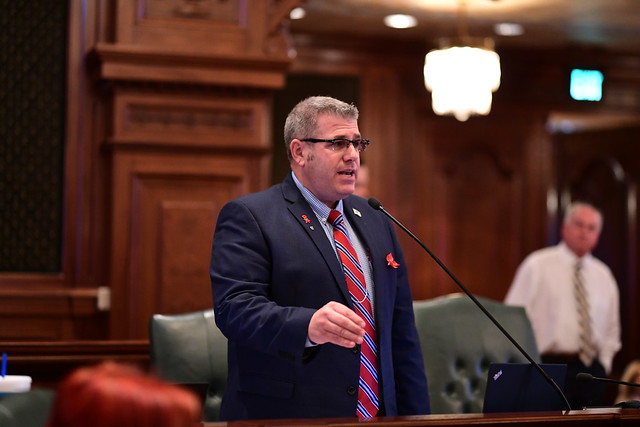 State Representatives Darren Bailey (R-Louisville) and State Representative Blaine Wilhour (R-Effingham) have heard from dozens of constituents over the past week about the inability to access the state's unemployment services.
Today, the two issued the following joint statement:
"More than 130,000 Illinois workers filed for unemployment benefits during the month of March.  Sadly, but equally unacceptable, is the fact the state's unemployment website is not operating as it should
We're told people trying to access the state's online jobless claim process are frustrated to the point of surrender.  Applicants get messages of "invalid information" or "incorrect password."  When they comply with changing their password, there is still no access.
The Illinois Department of Employment Security's website is a notice of the scheduling of assistance for those out of work.  The assistance is being scheduled according to the day of the week and first initial of a person's last name, but this has also not eased the problems.
Constituents also tell us they can't get through to the unemployment office by phone.  They're on hold for long periods of time.  Some call three or four different times in a day, but out of frustration, they hang up.
This issue was raised with the Governor's office, and the advice was to tell people to call the Employment Security office earlier in the morning.  That is little consolation, and it's a dismissive attitude, which does not help fix the problem with the system as it exists today.
These are Band-Aid solutions to an open wound.
Illinois has a state agency dedicated to technology.  It's called the Department of Innovation and Technology.
What role is it playing in fixing the problems with the unemployment claims process?  What's being done to increase online capacity perhaps by adding more and/or larger computer servers?  How about adding phone lines to the hotline for assistance, and staff to answer calls?  Perhaps a third-party vendor can be used to handle the calls; has anyone checked?
The Governor routinely criticizes the federal government over how it's functioning.  The Governor deserves the same level of scrutiny and questions.  Governor, what is your solution to getting assistance to those out of work?"