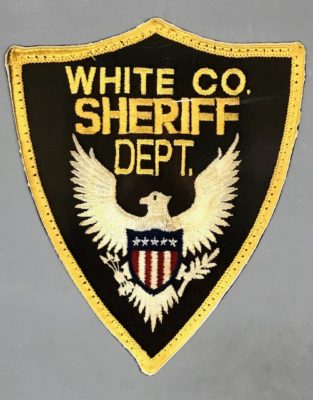 The White County Sheriff's Department has received multiple reports of theft and burglary.
On July 3rd, William Scott South of 105 First Street in Enfield reported someone had broken into his home while he was out of town. South told Officer Matt Wicker that when he returned home he noticed that a lock had been cut off of his side door. He stated that he lives alone so no one else should have been in the home. Wicker asked South if he knew if anything had been taken, but he had not yet taken an inventory of the home. South told the officer that he would get a list together of everything stolen, including serial numbers on the items if at all possible. No further information has been made available.
On July 13th, Officer George J Spencer spoke with Amanda C Mayberry of 268 County Road 25 E in Norris City in reference to a theft from her mailbox. Mayberry told The Officer that a package had been delivered to her residence from Amazon via the US Postal Service at approximately 5:00 p.m. on July 9th.  Mayberry stated that the package was ordered on her husband, Kristopher Mayberry's account and that it was valued at $25. Mayberry said she spoke with the Norris City Post Office and they verified the package had been delivered on July 9th. Mayberry stated that she has also had some coupons stole from her mailbox previously, but she didn't report the incident. A report was filed and placed on file at the White County Sheriff's Department. Spencer said he would also follow up with the Norris City Post Office. He told Mayberry that she would be contacted if any further information became available.
Later that evening, Deputy Jordan Weiss spoke with Richard Travelstead of 726 Shipley Street in Carmi, who reported three cell phones had been taken from his residence. Travelstead told Weiss that two of the phones were blue Motorola's and one blue Samsung Smartphone. Weiss then took a signed complaint from Travelstead.
On July 15th, Officer George Spencer responded to the intersection of Main and Pumphrey Street in Maunie and met with Steven D Horn in reference to a vehicle being damaged while parked at the intersection of Main and Pumphrey Street. Horn, who is an employee of Evansville Western Railway told Spencer that he had left his company owned vehicle in the lot near the intersection on the night of July 14th and when he arrived the following morning, the fuel tank had been punctured. The vehicle is a white 2013 Chevrolet K2500. Horn said he had no idea who may have damaged the vehicle. Spencer took a report on the incident and attached photos of the damaged fuel tank. Officer Spencer told Horn the report would be completed and placed on file at the CWSD and he would contact Horn if any further information became available.
And on Sunday, July 17th, Officer Matt Wicker received a phone call from Grayville Assistant Chief Mike Brown stating he had spoke with an individual who had informed him of some items being stolen from his property. Wicker met up with Chief Brown and went to speak with the gentleman who wanted to file a report. They arrived at 322 E South Street in Grayville and spoke with Tim Hill who stated that someone had broken into his vehicle as well as his camper. Hill didn't have a complete list of the items that had been taken but he knew that a large gray chain hoist was missing as well as some receptacle's, a tub of copper wire and a Bushnell game camera. Wicker told Hill to call the Sheriff's Department if he discovers any other items missing. A report was completed and placed on file at the WCSD.