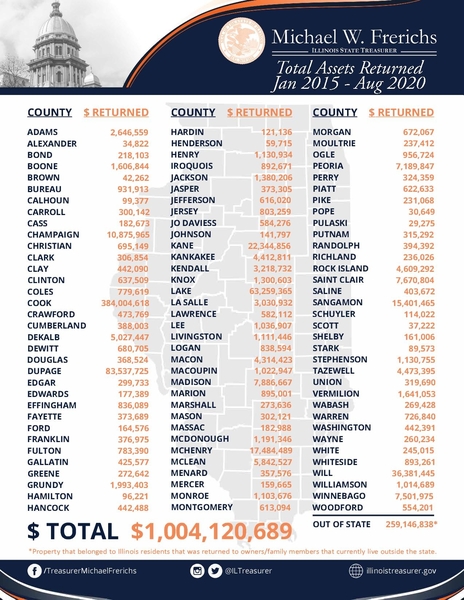 Louisville, IL – State Representative Darren Bailey (R-Xenia) continues to work with the State Treasurer to help remind people that they should check to see if the State of Illinois is holding any cash or property that belongs to them. It's free and it's easy to check at the I-Cash search option online at https://icash.illinoistreasurer.gov/. If you do not have access to the internet, please contact Rep. Bailey's office for assistance.
"At a time when record numbers of people are unemployed and the economic pressures of the coronavirus shut-downs are being felt by seniors and families across our state, every dollar is critical to feed your family and pay the bills," commented Rep. Bailey.
Illinois State Treasurer Michael Frerichs and Rep. Bailey want you to know that most people are surprised to learn that the state might have their missing money or unclaimed property – and they don't even know it. You can see if your name is among the thousands who have missing money by searching your name, a relative's name, the name of a business or the name of a non-profit organization.
Sometimes, a letter or check is mailed to the wrong address. Examples of unclaimed property include unpaid life insurance benefits, forgotten bank accounts and unused rebate cards. The state treasurer is legally required to return the property to the rightful owner no matter how long it takes.
"My office worked with the Treasurer last year for example to connect a family in my legislative district with a number of unclaimed stocks with a substantial value," added Rep. Bailey. "Though the original owner of the stock was deceased, the owners of the estate are able to claim what rightfully belongs to them."
An estimated one-in-four people in Illinois have unclaimed property. Because unclaimed property is surrendered to the treasurer's office twice each year, you are encouraged to check the database twice each year; for example, on your birthday and six months later.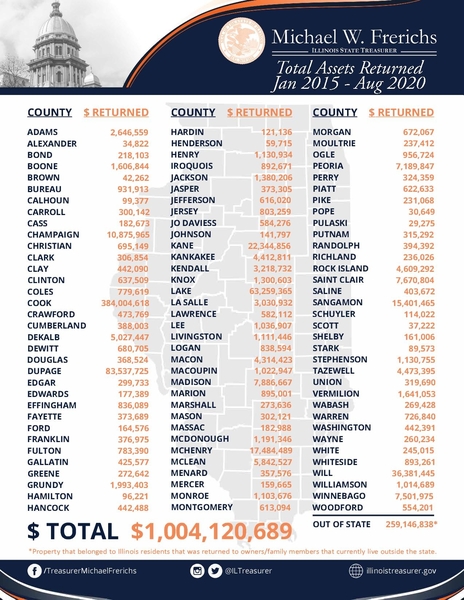 Property Value Returned by County within the 109th District (Total to Date = $3,421,688):
Clay $442,090
Edwards $177,389
Effingham $836,089
Jasper $373,305
Lawrence $582,112
Richland $236,026
Wabash $269,428
Wayne $260,234
White $245,015