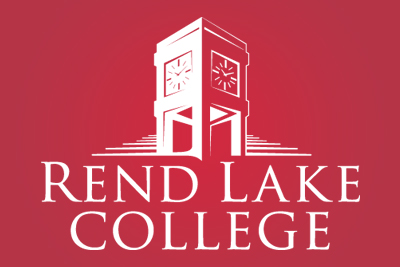 INA, Ill. (Aug. 24, 2020) — Rend Lake College and partners, Lake Land College in Mattoon, Ill. and Illinois Eastern Community Colleges in Olney, Ill., have been chosen as a recipient of the 2019-2020 Apprenticeship Expansion Grant by the Illinois Department of Commerce and Economic Opportunity. As a recipient, RLC will serve as an Apprenticeship Intermediary and will receive $198,795 to expand existing apprenticeship programs in manufacturing occupations including industrial maintenance mechanics, machining, welding and production technology in the Southern Illinois region.
In June of 2019, Illinois received a U.S. Department of Labor Apprenticeship Expansion Grant to expand the number of registered apprentices in the state. This is the third round of funding from the DOL to support the expansion of apprenticeship in Illinois and focuses on cultivating apprenticeship development that leads to increased registered apprentices in areas of the state where programs do not exist or are underdeveloped. RLC's project titled, Supporting Rural Apprenticeships, will serve Registered Apprentices and Pre-Apprentices in Illinois Economic Development Regions 7 and 8.
The three rural community colleges partnering for the project will work with Local Workforce Innovation Areas 23 and 25 to provide and determine Workforce Initiative Opportunity Act eligibility and enroll eligible participants.
"Apprenticeship programs are great for students and employers alike. They allow an individual to earn an income while attending classes, applying what they are learning in a particular course directly into a work environment on a weekly basis," said Logan Marshall, HVACR and Industrial Maintenance Technology instructor with IECC. "It is a benefit to the employer because they can train the student in their specific protocols and on their specialized equipment. This creates a better employee for them and shows an investment from the company in their employees."
As an intermediary, RLC and partners will sponsor and/or coordinate the apprenticeship programs, coordinate with employers to hire and mentor apprentices, facilitate program development and provide related technical instruction.
Rend Lake College has been an approved DOL sponsor for Registered Apprenticeship programs since May of 2018. With grant funding, RLC and partners will be able to expand apprenticeship programs and help business partners in the region further develop existing registered apprenticeship programs.
"NAL (North American Lighting) is committed to being an Employer of Choice in our communities," said Chad Thompson, Corporate Human Resources General Manager for NAL. "Our long-term success depends on a strong apprenticeship program as well as the local internships and scholarships we support. Many companies are struggling to fill the skills gap with emerging manufacturing technologies. We have to partner with local schools and colleges to educate students on their career options and opportunities."
Rend Lake College is one of 25 organizations across the state and one of three in Southern Illinois to be selected to expand training programs and employer partnerships.
Management, Training and Consulting Corporation, Man-Tra-Con, was also awarded grant funding to serve as both a Navigator and an Intermediary in Economic Development Region 8. As a Navigator, Man-Tra-Con will develop and strengthen the knowledge, skills, abilities, processes and resources that businesses, educational institutions, local workforce areas and community partners need to create new or expand existing apprenticeship programs.
Last year, Rend Lake College partnered with Man-Tra-Con to help build infrastructure to support the expansion of apprenticeship programs in Southern Illinois. The Apprenticeship Expansion grant is focused on assisting local workforce areas and other qualified grantees for projects that demonstrate innovative strategies or replicate effective evidence-based strategies that align and strengthen the workforce investment system to improve program delivery, education and employment.