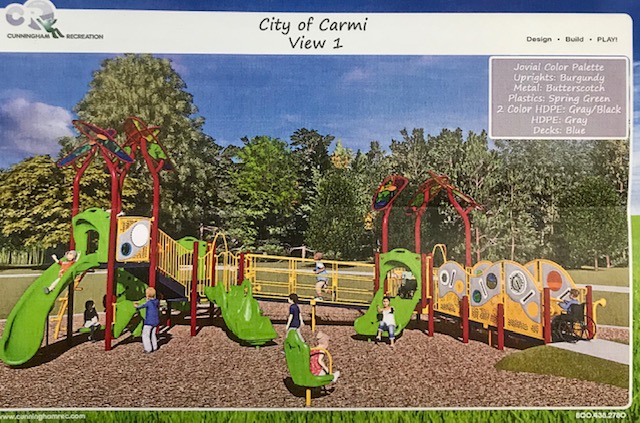 A major renovation and update is planned to continue and received a major spike in support Tuesday night at the Carmi City Council meeting.  Members of the new non profit "We Love White County" were present for the portion of the meeting planned for discussing the addition of playground equipment to the former theater lot.
Mayor Jeff Pollard says the playground equipment chosen will cost $92,471 and he says a grant was secure to match at $45,000.  The mayor says that would leave the city needing to pick up about $51,000 and some change.  He said, "in this day and age and with everything going on, we need some positive and I'd like to proceed forward with trying to do this project" before calling Bart King to address the council.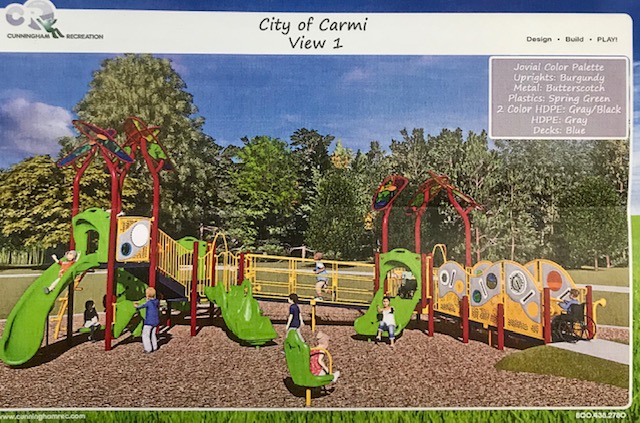 After providing the organization's mission and discussing how the non profit believes the county can be a thriving one and while money is important and building economies is important, King says the non profit is centered on building relationships.
"There's brokenness everywhere.  No matter where you look, there's brokenness.  What we recognize is there's a lot of social divides that take place in this community.  We believe the remedy to that is building relationships.  Throughout this entire time, we've just been blown away by how much support we've been given by our community.  And I think that's because people believe in this community, love this community, and want to see it thrive.  With that, we believe in this project because we believe it's an opportunity to build relationships.  So we come to the council tonight to pledge a match for that grant in the amount of $52,000 for the city's portion of that grant match."
He said the only thing they asked was to be allowed to help cultivate relationships at that location or any other location.
Thanks to the benevolence of We Love White County, the mayor asked that instead of having the city workers build and install the playground equipment at a cost of $36,000.  That money, Mayor Pollard says, can come out of TIF funds and/or from the Parks Department.
Pollard then revealed more of his vision for the area saying,
"That's stage one.  Stage two is I would like, on the back side there, to build a stage and have a little theater area back there where we can hold concerts or show movies. We'll put some of the old fashioned lights. That's kind of the vision for the park.  We're going to put up a wrought iron fence and again, that money can come from TIF."
Additionally, down the line, the mayor says he'd like to potentially see the Santa House relocated there and maybe even the parade route wrapped around the area, but with a brand new executive director at the Chamber, he wasn't sure how that would go for this year.
Accepting the money from We Love White County and moving forward on the playground equipment with the company installing it was passed unanimously.