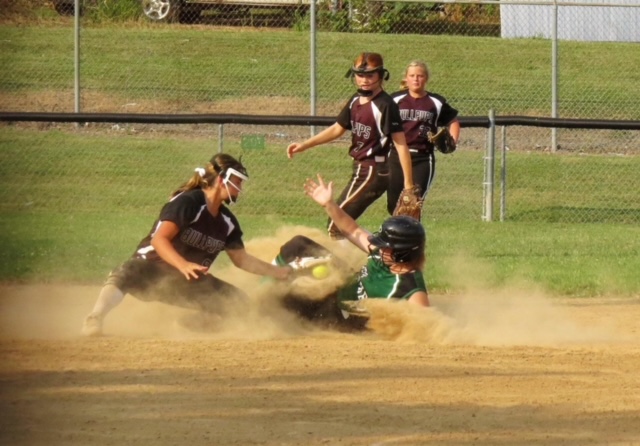 One two punch leads Carmi Lady Bullpup Softball to victory.
Story By Curt Hale
Caroline Simmons and Mia Evans each had big days at the plate to lead the Carmi Lady Bullpup softball team to a 9-4 victory at Hamilton County on Thursday.  Simmons had a single and scored three runs and Evans three hits (two triples and a double), three runs and four RBI's to pace the offense for Coach Cindy Colman's squad.
Carmi (6-1) plated two runs in the first and three more in the third to jump out to a 5-1 lead after three and a half innings.  Hamilton County would claw back to within a run after four innings on the back of three walks and an error in the inning but Carmi would tack on one in the fifth inning and three more in the sixth to put the game out of reach.
Lindsay Simmons picked up the win on the mound pitching all seven innings while giving up four runs (three earned) on four hits while striking out an impressive eleven batters and walking four.
L Simmons also chipped in with a triple and an RBI, Torrie Ryder and Aly Albright with two hits, one run, and an RBI, Malyiah Mayo with a hit and an RBI, Addy Elliott with a hit and a run scored and Brianna Hale with one hit.
The Carmi Lady Bullpup softball team's next game is at home on Monday against Fairfield at 4:30pm.