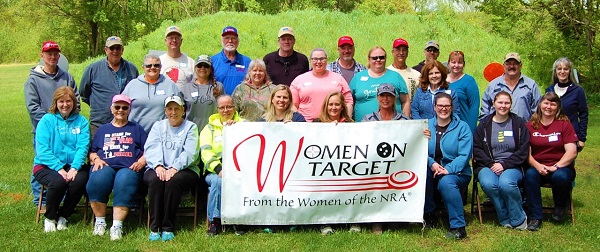 Women came from all over southern Illinois to attend the Carmi Rifle Club's annual NRA Women On Target shooting event held on Saturday, May 7th.  The day long shooting clinic began with an orientation session which included firearm safety training, range safety training, and instruction on the basic fundamentals of marksmanship.  The morning was divided between trapshooting with 20 guage, 12 gauge,.410 shotguns and indoor target shooting with .22 caliber handguns.
 A picnic lunch was provided for the attendees and a smorgasbord of guns was available for the ladies to shoot in the afternoon.  Club members provided: .22 LR rifles/pistols, .380 handguns, 9mm pistol, .38 Special pistols, .45 ACP pistols, a wide variety of .22 rifles, .30 Carbine rifle, AR-15 Rifles, and AK-47 semi-automatic Rifles.  Each station had an instructor assigned to it for instruction and safety.  The ladies also enjoyed trying their skills at shooting the steel challenge.
 Carmi Rifle Club, in conjunction with a grant from the Friends of the NRA, supplied the ammunition and club members supplied all the firearms for the day.  The club offers a special thank you to the volunteers who supervised the firing line:   Mike Rowe, Jay Armstrong, William Hunt, Greg Webb, Jeff Bohleber, Kevin Nelson, Brian Bramlet, Darren Kenshalo, Gordon Simpson, and Women On Target coordinator Valinda Rowe.  An extra big thank you to club members Dawn Williams for photographing the event and Christina Armstrong for preparing the lunch.
 Community events open to the public are posted on the Carmi Rifle Club website www.CarmiRifleClub.com and on the Carmi Rifle Club facebook page.
Caption: Women attending Carmi Rifle Club's Annual Women On Target Shooting Clinic First row: Sheryl Woodham, Brenda Marriott, Pam Russell, Rebecca Sutton, Jennifer Kesl, Amy Clodfelter, Lisa Jett, Nikki Tarrant, Tabitha Neal, Patti Tarrant,
Second Row: Teresa Marriott, Cindy Emerson, June Wood, Reiley Michels, Heather Wilson, Sherry Pollard, Jennifer Parker, William Hunt, Valinda Rowe
Third Row:  Kevin Nelson, Greg Webb, Brian Bramlet, Mike Rowe, Gordon Simpson, Darren Kenshalo, Jeff Bohleber, Jay Armstrong (photo by Dawn Williams)
Submitted by Valinda Rowe
Carmi Rifle Club
618-963-2788