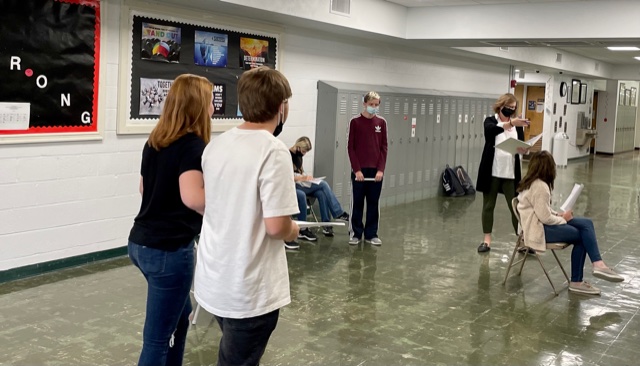 The fall production at NCOE will be all the more impressive thanks to the author of the play.  Mrs. Marsha Humphrey, the teacher and director is the writer of the murder mystery she says is based on a specific residence.
Murder at the Old Farmstead will be performed on Friday, October 22nd and Saturday, October 23rd at 6:30pm nightly from the NCOE High School.  Humphrey has been a big advocate of the arts from her years as a student and continuing in her teaching career.  Humphrey has developed drama programs at schools throughout her career.
The plot…
Humphrey says it took her about a month to write the play after visiting the house.  The murder mystery will consist of 17 actors playing roles and another 13 to 18 working in a supporting fashion.  Humphrey lists some of the main roles.
Adam Cincotta is one of the actors.
Lilyona Rose Anderson, another actor says it's a great opportunity to get to work on a project in which there's not an established portrayal of the character.
Gracie Schneider, a sophomore, is the crew chief and student director has helped with an elementary production, but says this experience is proving to be much wider in scope.
Murder at the Old Farmstead tickets are available now by calling the high school.  Tickets are $25 each and will include a dinner catered by Two Chicks and a Spoon.  Humphrey says there are a limited number of seats available and those who are wanting to attend should hurry to ensure they get tickets.