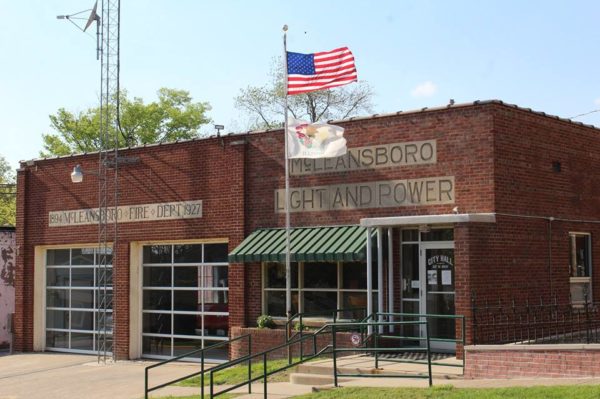 Alderman Jim Mason was named Mayor Pro Tem due to the absence of Mayor Dick Dietz.
Police Chief Nathan Taylor told the council the city Police and county Sheriff's office are working together on the situation with the coronavirus. So far there are no cases of people with the virus in Hamilton County. He said the hospitals and nursing homes are coordinating with each other on restricting visitors to both places.
Taylor also said the new police hire, Chase Partain, is coming along well so far. His graduation is scheduled for June 12th.
Work on the new water tower got underway Tuesday and is moving along nicely. It will take about a year to complete.
Amy Draper, the Hamilton/White County Career Planner of Wabash Area Development Incorporated adressed the board about working with the city on a program to help youth job seekers access employment, education, training and support services and match employers with workers.
Also, Letitia Wiggins of the Hamilton County MAPPING Initiative talked about working with rural communities in the county to improve economic development and a plan to achieve it.
The aldermen said they would like to be involved with both organizations and will work with them.
Mark Elliot, Public Information Officer of the Wayne-Hamilton County Health Department talked about the importance of everyone being counted in the 2020 Census. He said after the last census, Hamilton County was undercounted by 1,400 people causing $1.4 million in lost revenue. Elliot said he would work closely with them to get the word out about getting people to fill out their census forms.
The board members accepted the low bid from Kyle Poore of $3,800 to demolish the property at 304 South Marshall owned by Tina Brown if she doesn't have it taken down herself by April 3rd as she promised.
A resolution was approved to spend $112,000 of Motor Fuel Tax Funds on street and bridge improvements, with more money to be spent on improvements in the future.
The aldermen agreed to write-off $4,355.11 in debts along with $9.798.32 from 18 judgments won in court against residents that they were unable to collect.
They approved ten properties to be appraised by Kay Stinson for $150 per each location.
An ordinance was passed to adopt the 2015 Edition of the National Fire Protection Association's Life Safety Code, which is an update of the 2000 Edition.
They agreed to pay for two members of the Mcleansboro Volunteer Fire Department to attend fireworks certification training in Lincoln, Illinois.
An ordinance adopting net metering was approved. It will be available upon request to any city residential electric customer with a qualifying generating facility of ten kilowatts capacity or less, twenty kilowatts for commercial and industrial accounts.
Teffertillers offered to sell the city a 2020 Colorado Extended Cab Truck, which would be used to read meters, and they will discuss with them a price and whether to lease it or buy it.
They will advertise for bids on a new mowing tractor.
The city will post for summer jobs for concession workers, which would pay minimum wage, and for certified lifeguards, which pays ten dollars an hour, for the City Pool.
The aldermen approved a proposal by Mayor Dick Dietz to form a Mcleansboro Arts Council. It would support artists in the area and art exhibits could be held that would attract people to spend money here.
Tabled were accepting bids on summer mowing so the bidders could learn exactly what areas they would be mowing, and the renovating or relocating of City Hall until a committee has been selected to look into the matter.
A 59 minute executive session was held to discuss employment of a specific individual with no action taken.
There will be a special meeting held on Friday, March 20th at 4:15 PM and the next regular meeting will be held on Tuesday, April 14th possibly at the Hamilton County Courthouse due to coronavirus concerns.