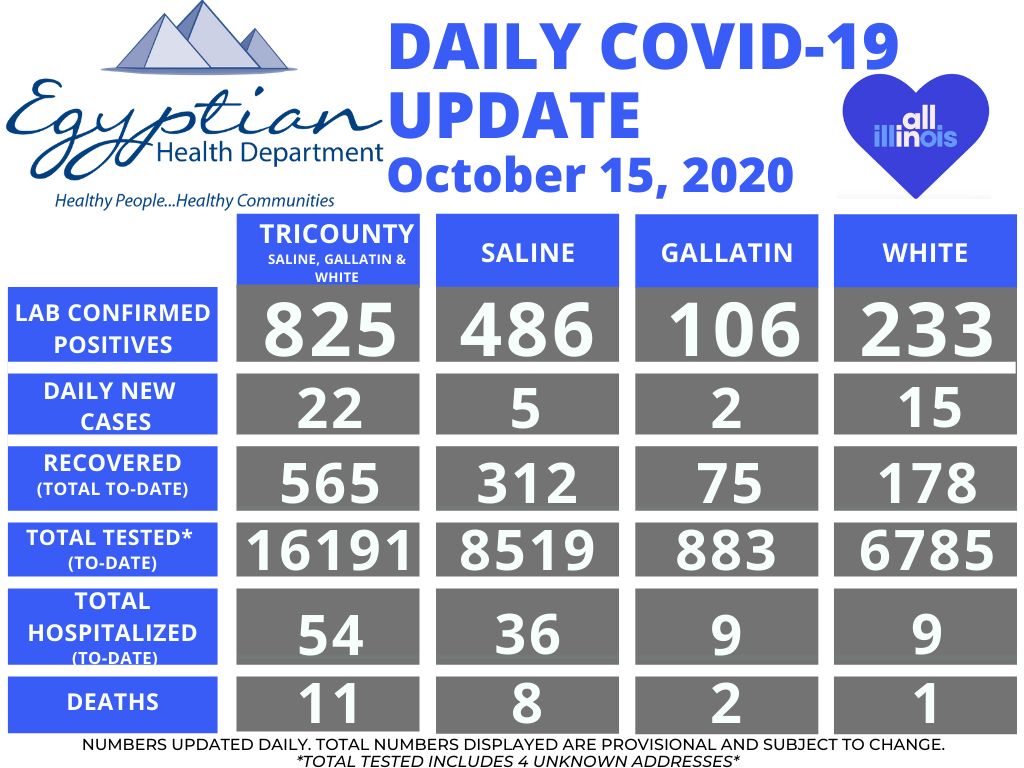 A big day for CoViD positives throughout the local area as well as the state Thursday.  Egyptian Health Department announced yesterday 23 more tri-county residents who have tested positive including 16 White Countians, 2 from Gallatin County, and 5 more in Saline County.  Additionally, Hamilton County added another 2 positive cases.  The state of Illinois alone reported it's highest one day novel coronavirus case total yesterday as more than 4,000 residents tested positive.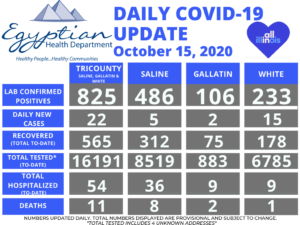 White County has now had 233 lab confirmed cases since the pandemic began.  Saline County has reported 486, while Gallatin County has reported 106.  Hamilton County is up to 108 with their 2 new cases yesterday.  Thirteen total quad county deaths have been reported including 2 each in Hamilton and Gallatin Counties, 8 in Saline County and 1 in White County.
To our north, Wayne County reported 10 new cases yesterday bringing their total to 415 lab confirmed cases.  Wayne County has been particularly hard hit with 11 individuals passing away.  Several residents and even business owners there have been outspoken in their shunning of guidelines, especially mask wearing.  A total of 91 individuals are currently supposed to be in isolation there.  Furthermore, the health department there says they expect the county has a "number" of probable cases that they are trying to track down through contact tracing.
Edwards County hasn't been delivering daily updates recently.  Their latest report on Wednesday covered the first of the month through Tuesday, during which officials reported 14 new cases.  After that report came out, leaders with the Health Department issued a public notice Wednesday saying anyone who had been to the Christopher Rural Health Clinic in Albion between October 5th and 14th could very well have been exposed to a positive CoViD case.  Workers in that office are now quarantined and the office is encouraging anyone who might've been exposed to watch for symptoms and get tested.
Currently in Illinois, we have more than 331,600 positive cases, including 9,127 deaths in the Land of Lincoln's 102 counties.  The 7 day statewide positivity for cases as a percent of total residents from October 9th through yesterday is at 4.9%.  Southern Illinois is all over the map with current "new cases per 100,000" and positivity rates.  White County is averaging 154 per 100,000 or 2.2%, Gallatin meanwhile (even though there's a much smaller population) is showing an 8% positivity percentage rate.  Hamilton is at 6.2%, Saline is over 13%.