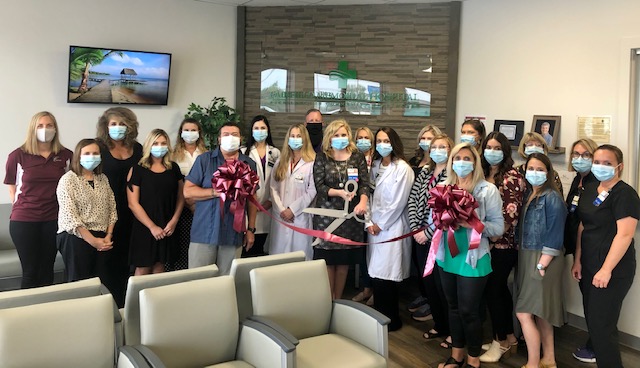 A year ago, Fairfield Memorial Hospital quietly opened Horizon Healthcare in Carmi.  The pandemic was really taking hold locally at that point and therefore, no fanfare was held.  The most folks probably noticed was the CoViD-19 screening tent that showed up.  With the virus seemingly on it's way to being under control, officials gathered Thursday morning to give a more appropriate welcome to the Fairfield Memorial Hospital remote medical facility.
In addition to tours, a cookout, and giveaways, Director of Physician Practice Hollie Barrett tells us bringing Horizon to Carmi was an important move for both Fairfield Memorial and also the residents of White County.
In addition to those services, Horizon also offers behavioral health services from licensed clinical social worker Jeff Wood, DOT physicals, and also wellness and sick visits for all ages.  Some other specialty services including orthopedic and pain specialists are planned for the fal.
Hours of operation for the Carmi clinic are Monday through Friday 7am – 5pm.  Walk-ins are welcome and appointments can be made at Fairfield Memorial Hospital or Horizon Health Care Clinics in Fairfield, Cisne, Grayville, or Carmi by calling 1-618-842-4617.