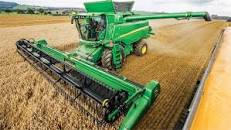 While area farmers are expected lower yields, due to a lack of summer rain, combines are beginning to roll around White County.
Traditionally, the "sandy soils" east of Epworth are the first to see farmers entering their fields for harvest, however, there are reports of some minor harvesting getting underway around White County and Southern Illinois.
Local producers are hoping late season rains will help the second planting of beans, but have expressed concerns about first crop beans and the corn harvest.
In August, the annual Crop Tour indicated most townships in White County would see lower corn yields this fall.
The estimates indicated Hawthorne and Burnt Prairie township would have the lowerst yields at 142.9 for Hawthorne and 145.8 for Burnt Prairie.
The best corn yields will likely come from Heralds Prairie at 173.9 and Emma Township, where the yield is expected to run around 174.3 bushels per acre, the best estimate for the county. That would put the county yield at an expected 159.7 bushels per acre.
Nationwide, farmers are expected to grow another record crop, despite weather that did not always cooperate with the needs of ag producers.