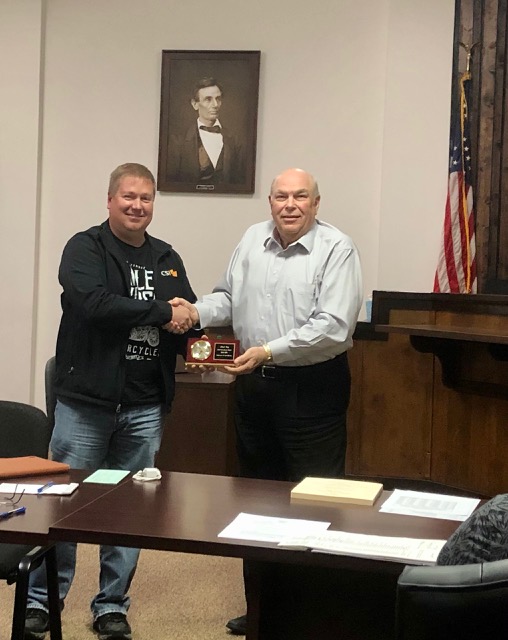 The Hamilton County Board gathered Tuesday evening.  Sheriff Tracy Lakin told board members even though he didn't get a paper copy comparison put together for the meeting, he was confident the calls for service doubled in March from February.  EMA Director Nathan Taylor updated the board on the Hazard Mitigation Plan saying FEMA had approved the plan.  The process took about two years to complete.  Dorothy Smith gave an ETSB update saying the board received their $159,000 grant and will work to update some radio equipment.
Board member Chad May gave an update on ambulance services in the county.  He said progress is stalled at the moment.  He says the hold up currently is the state who is giving some pushback on sales tax exemption despite the verification to be a 501c3 non profit.  The state is saying that doesn't guarantee the service will be tax exempt.  The next hearing is coming up in mid-May.
The Bellwether Administration report reviewed the county's standing with it's American Rescue Plan monies.  Hamilton County will receive $1,588,089 but it's unclear whether the money will be given in halves or the whole amount at once.  The expectation is they'll have a clearer picture by May 10th.
The bulk of the meeting was spent discussing the transfer of a million dollars from the Coal Option Account to pay on the Highway Rural Development Loan.  Board member Kelly Woodrow was in favor of paying the million due to the savings in interest, which would amount to about half a million.
Outgoing Board member and recently elected Mayor of McLeansboro had some concerns about spending that money when the courthouse has some serious structural needs.
Part of the concern is coal money.  Hamilton County Coal pays royalties which is most certainly helping fund the road improvements throughout the county.  They're also currently not sending any monies as they're not currently mining under Hamilton County soil that benefits the county.  John Chapman, the county board chair added that sometimes it's better to just pay what you owe rather than pay off a loan early.
Additionally, Chapman says economic development should be taken into consideration.
Chapman says he's talked to folks at the mine and they expect some activity within about a year.  Ultimately, Woodrow made a motion to pay the million.  The motion died for lack of a second and the board will take it up at their next meeting.
Lastly, the board congratulated May on his election to head the city of McLeansboro, awarding him with a gift and discussing his accomplishments.  In May's first year, the board operated at a $400,000 deficit.  By his second year, they were down to a $50,000 deficit and by year 3, the budget was balanced.  May was credited for his work in making that happen.
Hamilton County will next meet as a board on Tuesday, May 18th.