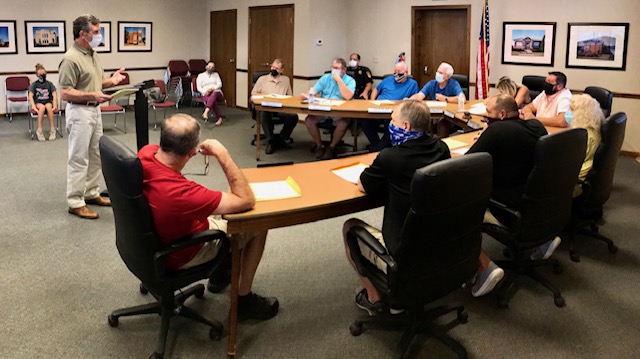 The Carmi City Council met for about a half hour Tuesday evening approving another pay request for the recently completed Industrial Drive Project.  This pay request, for $29,007.03 goes to Samron Midwest Contracting out of Murphysboro, IL.
Jim Brown of Brown and Roberts Engineering was back again to address the City Council, asking them to consider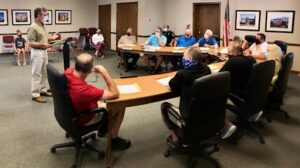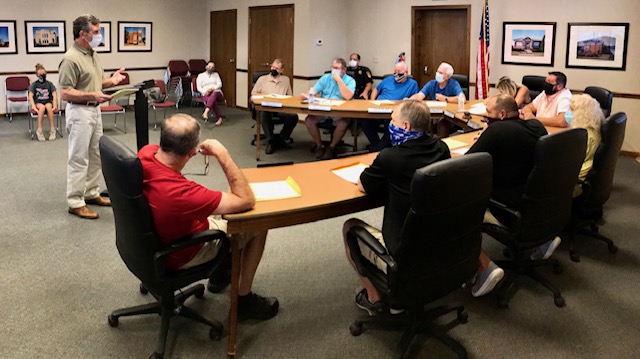 applying for a 2020 Community Development Block Grant.  The city applied for an Illinois Fast Track grant recently.  Brown says only one community downstate received any funds.  He says they've also filed a Rebuild Illinois application but it's not been acted on at this point and he says there's no way to tell when they will.  The Department of Commerce and Economic Opportunity grant cycle ends at the end of September.  This year's program offers a max of $525,000 with the caveat that the city would have to pay for all the engineering costs.
Brown:  "We're talking about water lines in the Hillsdale area and if you do want to proceed with this program, this will only be enough to address a portion of those water lines.  I'll just have to get with Jimmy [Jordan] and Curt [Hale] to decide which are the worse lines to address."
Brown went on to say that with the $525,000 potential DCEO grant, the city's  commitment could be expected to be around $115,000.  The city already owes Brown and Roberts for some applications though no amount was brought up.  The applications the engineering firm has made on behalf of the city, Brown says, the company has been "carrying those for you, we haven't charged you anything…we're hoping we're going to secure funding so we can get paid.  We haven't sent you a bill for any of that."
Mayor Jeff Pollard brought everyone up to date with the area of town that is being focused on through the grant applications.
"That whole area started out because we have an issue with filtration with the sewer and it was the sewer and water project and that's what we still haven't heard back on yet.  That's kinda where this was all going was to take care of that.  It is an issue and at some point and time, it's going to have to be…we can either plan for it and try to get grant money to fix it or we can wait until it all falls apart and we don't have any help and we have to fix it.  So that's just kinda where that's at."
Alderman Doug Hays motioned to move forward and to hold a public hearing for the grant application prior to the next city council meeting (September 15th).
Also Tuesday night, the city will gain about $150,000 to $170,000 in operating cash after voting to refinance an existing loan with First Bank.  Mayor Pollard explained that two years ago, the city took out a $400,000 loan to buy out the Revolving Loan Fund from the state.  They used two $200,000 CD's as collateral for that loan.  The loan agreement currently calls for a renewal every two years to free up CDs with the 4 year term.  Pollard says after his discussions with Patty Evans, city treasurer, and Cynthia Atteburry, City Clerk, he would prefer to refinance at the full $400,000 instead of cashing in one of those CDs.  Pollard pointed to lower sales tax revenues and the pandemic related decree that prevented city's from turning off utilities for non payment as reasons for "things being tight".  The current balance on the bank note is around $230,000 according to Pollard.  Alderwoman Sheila Headlee made the motion to refinance the loan and the council unanimously agreed to allow it.
In reports from the mayor and committees, the mayor says the city will be hosting another electronics recycling event on Saturday, September 12th from 9am – noon.  CJD e-cycling is requesting participants to wear a mask and Pollard says workers will handle the unloading of vehicles.
Additionally, Pollard says an ITEP (Illinois Transportation Enhancement Program) grant has come up in the last two weeks for infrastructure upgrades in areas with low to moderate income and health care.  He says the city reached out to Brown and Roberts for more engineering and grant work for sidewalks in Industrial Park on Commerce Street, Falcon Avenue and College Avenue.  The amount of the grant wasn't mentioned but Pollard says it would be 80% federally funded with 20% required to come from local resources.  Pollard says Motor Fuel Tax or TIF funds can be utilized.  The application has to be filed by November 2nd and a special hearing will have to be held between now and then.
Lastly, Pollard says due to state guidelines, the city is sad to announce it will not be hosting Halloween activities at Burrell Park this year and the city's Trunk or Treat will also be cancelled.