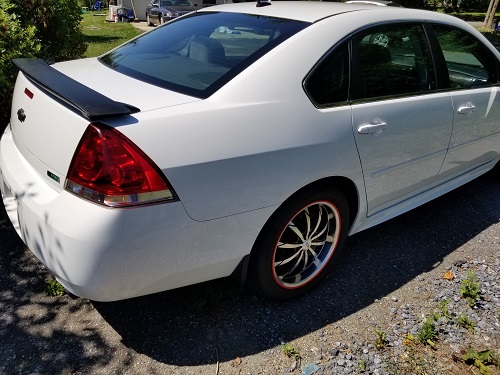 A Grayville woman says her car was stolen.  A White County Sheriff's Deputy report indicates 29 year old Jessica Bratcher thinks she knows the individual responsible.  She last saw her 2012 Chevrolet Impala LTZ on Friday, April 16th and states when she woke up Saturday, it was gone.
The suspect, Bratcher says, did stay at her home in Grayville at one point but had been kicked out and wasn't allowed back some time ago.  The Impala is described as a white 4 door with black rims, a black spoiler, and a Decepticon (from Transformers) decal on the gas tank lid.  Additionally, the passenger side headlight wasn't functioning.
If that wasn't bad enough, Bratcher claims her wallet which contained about $700 cash was inside the vehicle.  She also told authorities she's been told the vehicle has been seen in Harrisburg, Maunie, and New Haven.  Bratcher says she kept the keys to the vehicle in her purse and her purse inside the residence.  Therefore, she believes the suspect entered her home to retrieve them.
The vehicle information was entered into the LEADS system by law enforcement.