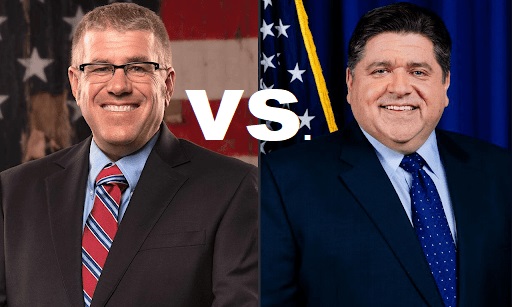 Gov. J.B. Pritzker said Monday his office planned to appeal a ruling in a legal fight over the governor's authority to extend the state's stay-at-home order.
State Rep. Darren Bailey, R-Xenia, filed a lawsuit challenging the order in Clay County Circuit Court. Bailey said the outcome was "pretty awesome" and the lawsuit was about challenging the authority of one person.
Pritzker said the case jeopardizes public health and he'll work to defend his executive orders.
"People are in danger as a result of this ruling, of the judge's ruling of the suit that was brought by Darren Bailey," Pritzker said Monday. "We certainly are going to act in a swift fashion to try and have this ruling overturned."
Pritzker said Bailey was looking for celebrity and had "made an enemy of science and reason."
"And it's a danger to millions of people who may get ill because of his recklessness," Pritzker said.
Bailey said that kind of rhetoric was "irresponsible."
"I think what he's mostly upset about is his power is going to be stripped from him," Bailey said. "Nothing changes as far as the health is concerned because now the county health department is responsible as they were from Day 1."
Bailey said quarantine should be left up to local public health departments, where due process is available.
Clay County Circuit Court Judge Michael McHaney's ruling only applies to Bailey. However, Bailey's attorney, Thomas DeVore, said he had fielded calls from others who want to file their own legal challenges.
"I'd expect in the near future that this issue that was raised by Mr. Bailey successfully today is going to start cascading across the state," DeVore said.
DeVore said the two sides will decide on a hearing date. It could also be directly appealed to an appellate court or the Illinois Supreme Court could intervene.
House Speaker Michael Madigan called the lawsuit "reckless."
"Like Governor Pritzker, I find Representative Bailey's lawsuit to be extremely reckless, at a time we can least afford it," Madigan said in a statement. "The governor's actions have consistently reflected an understanding that, as we face this crisis, we must be guided by what is right – not what is easy, comfortable or expedient. Clearly, we cannot say the same for all the leaders of our state. It is my sincere hope that upon further review, this decision is reversed, and that our health care workers, first responders and loved ones are not unnecessarily subjected to added risk by such a short-sighted lawsuit."