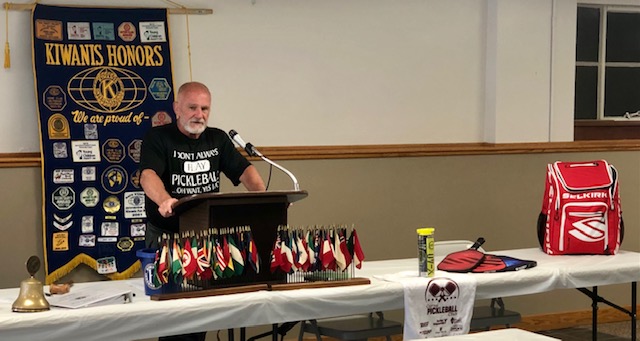 Pickleball was created back in 1965 and is attributed to three fathers whose kids were bored with the usual summertime activities for creation of the game.  It's taken some 55 years, but the sport is now actively sweeping the nation and locals are getting into it as well.  Terry "Sarge" Gholson is the driving force behind growing the Carmi Pickleball Club.
The group has played in the high school (until CoViD-19 forced them out), the floral hall at the fairgrounds in Carmi, the tennis courts at Bradshaw Park, and now the old tennis courts at Eckerle Park are the place to find that signature paddle on whiffle ball sound. Gholson says the club has goals.
A tournament was held in mid April and Gholson says they were able to raise about $2,500 toward their goal.  And while that is the goal, the group also aims to help other local charitable organizations.  Gholson says they'll donate half of their profits from each tournament to a local charity.  We Love White County is expected to get a check from the club next week.
Gholson talked strategy and says the club also entered a contest WROY/WRUL told you about recently.  State Farm is granting $25,000 Neighborhood Improvement Grants and the Carmi Pickleball Club has signed up for consideration.  State Farm's review committee will narrow the submissions to the top 200 and then the community will have an opportunity to vote from August 18th – 27th.  Assuming the club makes the cut, we'll be telling you much more about that and how you can help in the near future.