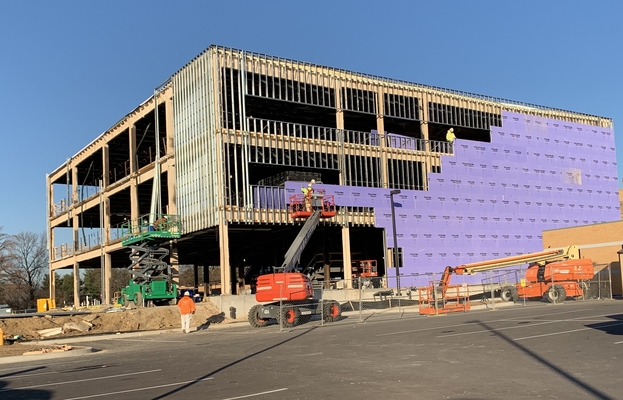 Fairfield Memorial Hospital's weekly updates are here to help keep the public informed as progress continues to be made on our Expansion Project to help meet the growing needs of our community.
During the week of December 7th, our drywall contractor continued working on the exterior stud wall and has started with the exterior sheathing on the east face of the building. The ironworkers are expecting to be completed with the bolting of the building frame before the end of the week and will be de-mobilizing as their work on this phase of the project is complete. Mechanical and electrical trades are continuing with installing supports for their work on all floors. You may notice that the window openings are being covered by the exterior sheathing. This is being done as a temporary measure to maintain heat in the building until the exterior is completed.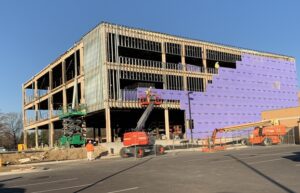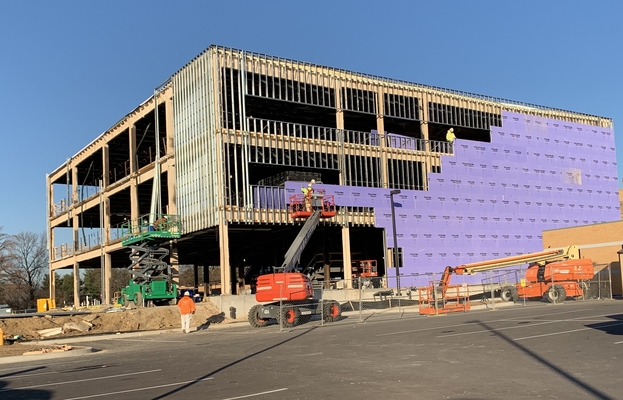 During the week of December 14th, weather permitting, the spray fireproofing on the third floor will continue through the week and will move down to the second floor by the end of the week. Work on the exterior studs and sheathing will continue around the building to the South wall. The masonry contractor will be mobilizing on-site to begin the brick and block work on the East side of the building in the near future.
Fairfield Memorial Hospital appreciates all of the hard work that has gone into making this project a reality and how much work has been completed on the project to date.