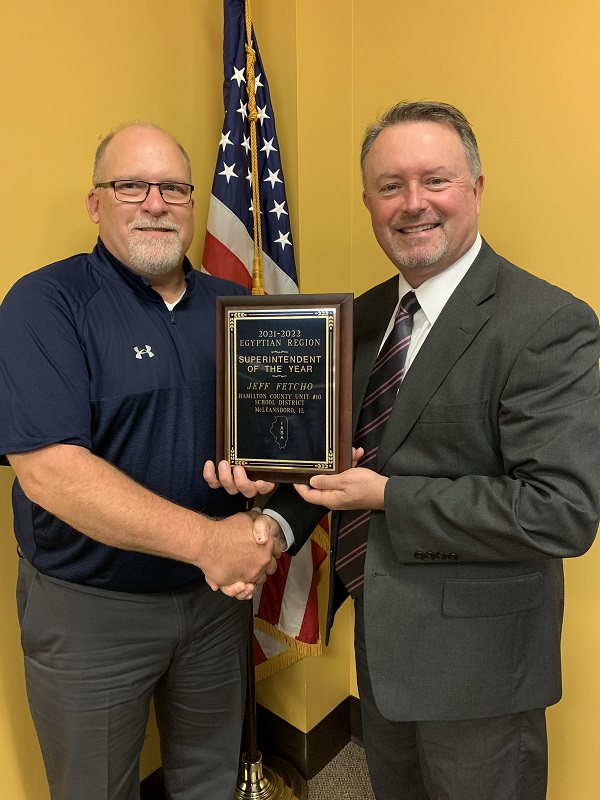 The Egyptian Division of the Illinois Association of School Administrators is pleased to announce the selection of Hamilton County Community Unit School District No. 10 Superintendent Jeff Fetcho as the region's Superintendent of the Year for the 2021-2022 school year. Mr. Fetcho, who has served as Hamilton County's superintendent for nine
(9) years, will represent school superintendents from seven Southern Illinois counties in the statewide Illinois Association of School Administrators' Superintendent of the Year and Superintendent of Distinction award programs. Fetcho received the award at the Division's regular meeting on Wednesday, September 15, 2021.
"We are pleased to have a top-notch, experienced veteran like Mr. Fetcho representing our group," selection committee member and Sesser-Valier Superintendent Jason Henry said in a written statement issued Friday. "Jeff has devoted his career to public service through education, beginning his career as a classroom teacher in Eldorado and now guiding the Hamilton County school district. Throughout his career, he has led his district by example, personally engaged in statewide education leadership initiatives, and nurtured aspiring and new superintendents. He's a wise, service-based, deliberate, strong superintendent."
Fetcho's award selection comes at a uniquely critical time in public education in Illinois.  "Jeff embodies the idea of hard work, long-term dedication, and progressive growth, "Pinckneyville High School Superintendent and Egyptian Division President Keith Hagene said. "He's not only strong in the functional areas of school administration, but he thrives on seeing kids, staff members, and his superintendent colleagues succeed. Genuine leaders like Jeff are constantly working together, mostly behind-the-scenes, to make a difference for students. Jeff is a servant-leader, and we're proud that he can represent our region through this award."
The Egyptian Division of IASA, the regional branch of the statewide superintendents' association, serves district superintendents in Franklin, Hamilton, Jefferson, Perry, Washington, Wayne, and White counties.