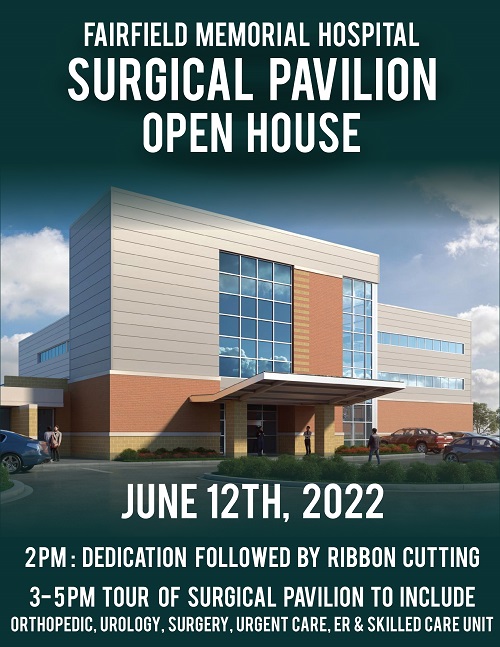 On behalf of the Fairfield Memorial Hospital Board of Directors, Administration, Foundation, Volunteers, and staff, the public is cordially invited to attend an Open House for Fairfield Memorial Hospital's new Surgical Pavilion to be held on Sunday, June 12th starting at 2:00pm. Visitors will be able to tour the new Surgical Pavilion which includes a brand new Skilled Care Unit on the 3rd floor, Surgical Specialty Offices on the 2nd floor, and the new Emergency Department, Urgent Care, and the two new Surgical Suites on the 1st floor.
The Dedication Ceremony will start on Sunday, June 12th at 2pm with tours of the new Surgical Pavilion to be given following the Dedication Ceremony until 5pm. Light refreshments will be served in the FMH Café and each attendee will be given a commemorative gift bag in honor of this momentous occasion.
"Fairfield Memorial Hospital is very excited that this date has finally arrived. When we embarked on this Expansion Project, no one could have predicted that we would enter into a pandemic, supply and workforce shortages, and everything else that has taken place since we held our groundbreaking in November 2019. The opening of Phase 1 of our Expansion Project is the culmination of hard work, perseverance, and a desire to expand the services provided to our communities. We hope everyone will join us this Sunday for our Open House as we are extremely proud of this beautiful, new addition to our Hospital." stated Katherine Bunting-Williams, Chief Executive Officer of Fairfield Memorial Hospital.
The FMH Café will be closed for lunch and dinner on Sunday, June 12th, to allow our Nutritional Services staff time to prepare and serve the refreshments that will be served during the Open House.
Starting June 13th, Fairfield Memorial Hospital staff will begin moving into the new areas. More information will be forthcoming as our Skilled Care Unit, Surgical Specialty Offices, Emergency Department and Urgent Care move into their new departments. Please like/follow our Facebook page to stay up-to-date on the moving of departments. We appreciate your patience during this time of transition to the newest phase of healthcare at Fairfield Memorial Hospital.
If you have any questions regarding this Open House event or any of the other services we offer please contact Fairfield Memorial Hospital Administration at 618-847-8242 or 618-847-8243.