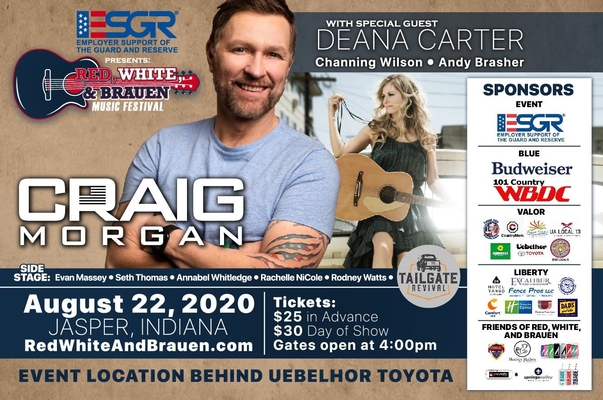 The Red, White, & Brauen Music Festival, presented by ESGR, takes place on Saturday, August 22, 2020, in Jasper, Indiana. Chart-topping country music singer Craig Morgan headlines the concert set to take place at Uebelhor Toyota on 12th Avenue. Organized by Rally Point Events, proceeds for the event benefit local veteran organizations.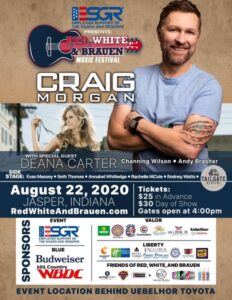 Morgan, a Grand Ole Opry member, has released the multi-week Billboard #1 hit "That's What I Love About Sunday," as well as fan favorites "International Harvester," "Almost Home," and "Redneck Yacht Club." His latest single, "The Father, My Son and the Holy Ghost," topped the all-genre iTunes chart earlier this year. Grammy-nominated and CMA Award winner Deana Carter ("Strawberry Wine," "How Do I Get There"), Channing Wilson, who penned Luke Combs' "She Got The Best of Me," and Owensboro native Andy Brasher, will also perform. A secondary stage showcasing regional talent features sets from Tailgate Revival, Rodney Watts, Rachelle NiCole, Annabel Whitledge, Seth Thomas, and Evan Massey.
"Rally Point Events looks forward to creating a fun and safe music fest. We have incorporated safety measures following all industry and CDC guidelines to ensure the safety of all our guests," President Lance Yearby says.
Safety Procedures:
• Temperature checks and routine questions will be administered at the gate. Anyone with a temperature of 100.4 degrees will not be allowed entry and will be refunded.
• Social distancing of 6 feet will be implemented throughout the grounds with signage and marked spots as needed.
• Attendees are required to bring a chair. No standing near the stage is permitted.
• Hand sanitizing stations will be readily available.
Yearby continues, "We look forward to raising funds for many veteran organizations, which is the mission of our organization. Plus, we are celebrating the area's heritage with our name – Brauen means "to brew" in German. Music is the perfect way to bring the community together and we intend to do so in a safe environment.
Limited tickets for the event are on sale now at RedWhiteAndBrauen.com. Prices are $20.00 now through June 14, then it increases to $25.00. Kids 10 and under are free.
Rally Point Events is a 501c3 entity comprised of volunteers that organize events to provide support to veteran organizations in the tri-state area.