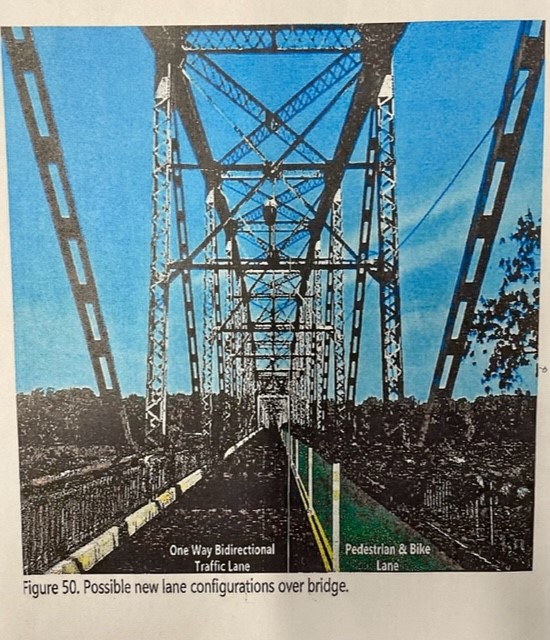 Following legislation in the late 1920's that allowed private entities to build spans, the Harmony Way Bridge connecting White County to New Harmony was built in the 1930's. Spud Egbert says then in 1941, the federal government realized building private bridges wasn't "useful".  In 1991, he says they passed a law to allow for the formation of the White County Bridge Commission, to sell bonds and purchase the structure from the private builders.  It was operated as a toll bridge and then abruptly closed in 2012.
"In the late 2000's, there was 800-1,000 cars going across the bridge everyday.  40% of them were for employment, 38% was for medical appointments and USI did that study to garner that information.  In 2012, the bridge was closed after an engineer said it couldn't even hold it's own weight.  He put that in a letter to us and sent it to IDOT, INDOT, and the federal government."
Egbert says also in 2012 as part of efforts to re-open the span a Phase I engineering study was done that discredited the engineer that effectively closed the bridge.
"And it basically disproved; that the previous engineer didn't do his job.  It is structurally sound.  Yes, there are beams and joints that need to be repaired, but it is salvageable.  The estimate to restore it totally is 25 million and it would give it a projected lifetime of 50 years."
Furthermore, he says that cost is well under the threshold of a new bridge.  So far, the group has been unsuccessful in getting grant funding despite several attempts.  Egbert says while discouraging, it's part of the process and he remains optimistic.
Egbert says in 2019, the Illinois and Indiana General Assemblies passed legislation to create the White County and New Harmony Bridge Authorities.  The White County Bridge Authority is made up of three individuals appointed by the governor, one appointed by county government, and one appointed by Phillips Township.  Those individuals are Egbert himself, Clint Spencer, Sara Brown, Linda Henning, and Ellen Schanzle-Haskins.
The most important thing members of the communities affected can do is to write letters of support.
"You really need to get letters from different groups, non profits, church groups, and individuals.  I'm here to ask anybody who would be willing to write a letter of support so we can include them with our applications for Reconnecting Communities and our RAISE grants."
Letters should be written and sent to the United States Department of Transportation and addressed to 1200 New Jersey Avenue, SE in Washington, DC  20590.