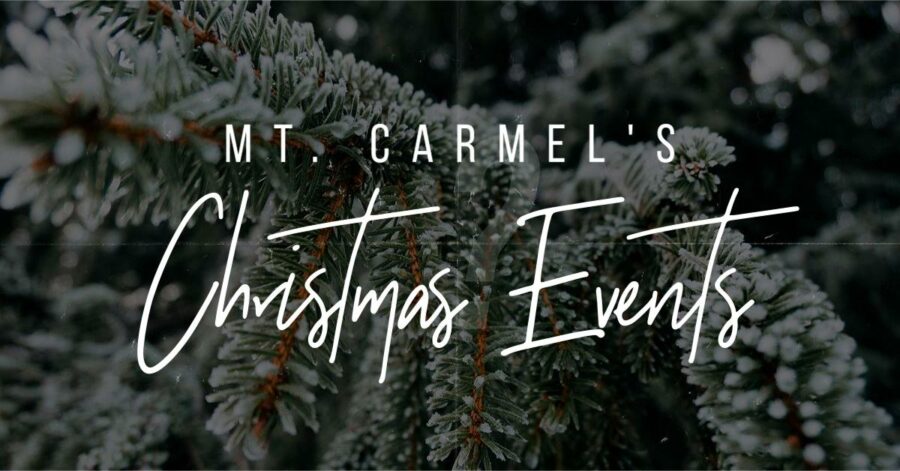 Relive your memories of Christmas past, create new memories for Christmas future, and all the while revel in the excitement of Christmas present during the 14th edition of Mt. Carmel's "Christmas Uptown – It's Beginning To Look A Lot Like Christmas", scheduled for Friday, December 2nd from 4pm-9pm on the city's Market Street. And brand new this year to help make your family's experience even better is the new Christmas Uptown app. Just search Christmas Uptown in the App Store or (available soon) Google Play, or click the link found on the Christmas Uptown Facebook page. There's an interactive map, as well as a complete chronological listing of events. You won't need to miss a thing! Christmas Uptown 2022 covers nearly 4 full blocks, and festival goers can enjoy 3 Scenic Carriage Rides, 2 North Pole Express Trains, and 2 Rustic Wagons as they travel Market Street throughout the evening. Several Ponies will be available for Rudolph Rides, and all the rides are free to the public! Also part of this family event, you have a chance to "create your own treat" at the S'Mores Making Station, even make a "take home" craft. Who wouldn't want to take a few minutes to relive everyone's favorite narratives of Christmas at Storytime with Mrs. Claus, and even talk to Santa himself on the Harris Insurance Group Pavilion after winding through the Festival of Trees in Merchants Park (Don't forget to drop off your Letter To Santa next to the Santa House). Maybe you'd like to join the fun at one of the two Festive Face Painting stations, one of which also provides a specially created balloon animal for the children. Again, there is no charge for these activities.
While you're inside the Wabash County Museum visiting local authors, offering their newest books, you'll absolutely want to vote for the best entries in the Gingerbread House competition. You can even enter your own creation, just visit our Facebook page for guidelines and a link to the entry form. You'll for sure want to take advantage of the multiple Character or Family Photo Ops, especially the giant 10' x 10' backgrounds (including live characters from "Frozen" and "Polar Express"), just across the street from Veterans Park and the City of Mt. Carmel Christmas Tree. Then step inside the Wabash Senior Center where the kiddos can decorate their own Christmas Cookie, fo a $1 donation to the Center. Just down the street you'll find a beautiful Christmas Tree surrounded by live carolers, and a real, live nativity scene. Parents, let the younger folks burn off some energy playing Kid Friendly (ages 2 thru 7) games at the Winter Wonderland Play Zone, while those a bit older (8 thru 13) join the Snowball Fights versus the Sports Teams from Wabash Valley College just a block away. Throughout the entire evening we'll bring you both the old and the new Sounds of Christmas! Relax with the "Strings of the Season", catch the Christmas Beat with the "MSHC and MCJHS Jazz Bands", gather round the "Strolling Victorian Carolers" (comprised of the MCHS Singing Seven), or just enjoy the background sounds of Christmas Uptown Radio.
Of course, you'll no doubt be hungry. The vendors in Mistletoe Market, Santa's Workshop and the Elves' Cafe' will be offering Sweets & Treats as well as fantastic festival food choices to satisfy almost every taste. Burgers, Soups, Sandwiches, Thai, BBQ, Pizza, Drinks and more are just a sampling of the menu, along with candy, cookies, popcorn and caramel apples – who knows what you might find! Vendors will also offer craft and other dry goods items. For even more fun, be sure to shop the Market Street Retailers, many offering snacks, refreshments and really fantastic Christmas sales on the items you need to complete your Christmas shopping list. And just one request we would make of you, please consider bringing a donation of a new toy, canned food item or cash, all to be donated to Operation Share, helping to create a better Christmas for many children and families in Wabash County for nearly 40 years. Just drop off those donations at the North Pole Info Center, where you will also find the festival map along with entry forms for the Sights & Sounds of Christmas Home Decorating contest. Still want more Christmas in your life? Come back to Market Street on Saturday for Santa's "Pictures with Pups" from 1pm to 3pm at Merchants Park, and at 5:15pm for the 56th Annual Mt. Carmel Lighted Christmas Parade.
You can find more information on the Christmas Uptown App, our Facebook pages, "Christmas Uptown Mt. Carmel" & "Wabash County Chamber", or by phone at 618-263-8591(Festival) and 618-