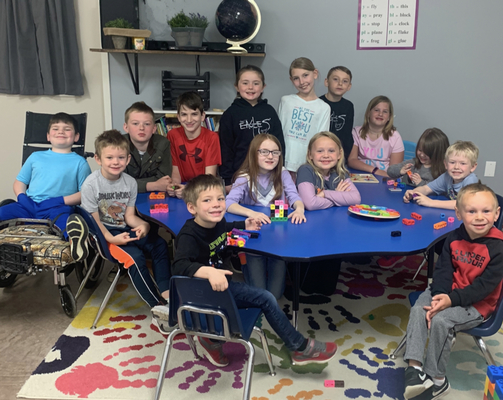 The Eagle's Nest began in 2017 when it was prayed in to existence by faith filled believers that wanted a different type of education for their children. They were looking for the Christian homeschool feel with qualified teachers and more socialization among students. What became of those prayers was a wonderful one room school in a quiet country home. The classroom was filled with sweet Kindergarteners, the best education,  passionate teachers and a loving environment for the students to learn academically but also be trained up in the ways of God's love. Learning about Him every step of the way.
In 2020, The Eagle's Nest decided to partner with other small homeschool co-ops and we found ourselves in need of more than a one room school. We found the perfect building for us on a country road in Norris City, Il. It is exactly what we had been praying for, with lots of room for the children to play and lots of room to expand. We are so excited as we are seeing our vision come to life.
We offer a school filled with teachers who love students as their own children, and children who love one another and learn Godly friendship. Our teachers pray and guide the children as well as teach them the excellent Abeka Curriculum. The parents of the children at The Eagle's Nest become part of our family and we love the atmosphere of being a big family helping children to prosper in their calling that God has for their lives as well as prosper academically.
As we have grown we have room in our classrooms to add more children to our family. We have openings in 4 year old Pre-K and Kindergarten and limited openings in grades 1st through 8th. If you are interested in more information please contact Lorie Oxford at (618)384-6567