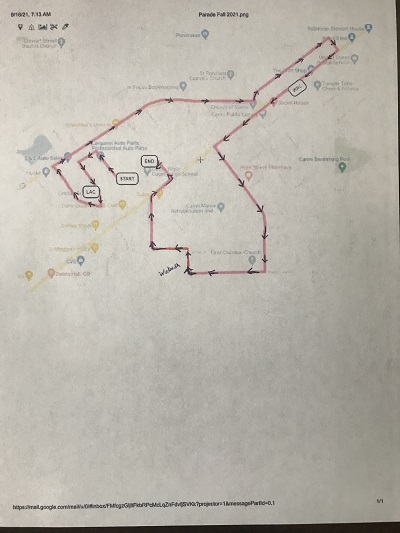 The Carmi White County High School Maroon Platoon and Student Council will be presenting the 2021-22 Homecoming parade on Friday October 1, 2021 beginning at 1:00 pm. The parade will begin along 9th St at the rear of the CWC Junior Senior High School. The parade will continue down 9th to the alley past Carquest and turn west toward 10th St. The parade will then turn south onto 10th and continue around Lincoln Attendance Center to Fair St. It will turn north onto Fair and continue down 11th St. to Oak. At Oak it will turn east and continue down Oak to 3rd St. and turn north onto 3rd St with an immediate turn onto Cherry St. It will continue down Cherry St to Walnut St where it will turn South onto Walnut, at First Bank, and proceed towards Main St. It will turn west on Main and continue past Washington Attendance Center to Plum where it will turn south onto Plum and continue past Carmi Manor to Bohleber Dr. Turning west onto Bohleber they will travel down Bohleber and turn right onto Abelson at the back side of Wabash Christian Village, around the Heritage Apartments, to College Blvd. It will then turn north onto College Blvd to Main St and turn east onto Main to 7th St. They will turn north onto 7th and end on 7th at the CWC Junior Senior High School rear parking lot.
The public is encouraged to line up along the parade route and participate in the Homecoming Parade by showing your Carmi White County School Spirit as the parade will end the homecoming week festivities for students.
Streets intersecting this parade route will be blocked beginning at 1:00 pm and continue until it is safe to allow normal vehicular traffic to resume.
Intersections along the parade route will be manned with Carmi Police and Auxiliary Officers, Carmi Fire Department and EMA, and CWC School Volunteers who will assist in ensuring safety during the parade. The public is encouraged to be aware of this temporary restriction of streets intersecting the parade route and to adjust travel plans accordingly. The parade is expected to last approximately 1 hour.