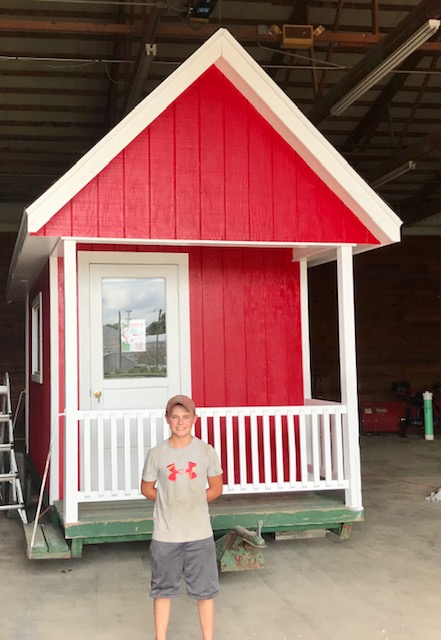 Many would like to either have a redo for 2020 or would just as soon skip ahead to next year.  If one 14 year old from Carmi has anything to say about it though, he's certainly still hoping for a promising end to the year.  Ian Mosier, with some help from family and friends, has partnered with the local Chamber of Commerce to give a much needed polish to the "seen better days" Santa house.  Rehabbing the run down building wasn't Mosier's first choice.
"At first, I have a little building that I pitched to be the new Santa house.  They ended up not taking it, but they came back to me and asked me to put together a quote to redo this one and then they decided I should be the one to do it and so here we are."
The facelift consists of a new roof and fresh coats of paint.  This course of action is only a temporary improvement.  Mosier says the floor of the building is fine, but the frame has seen better days and will need attention in the next few years.  Until then, it looks like a brand new Santa house however and it's safe to say Santa will be thrilled with his new Carmi digs.
Ian credits his dad Shon and grandfather Jeff Cantrell with helping teach him many of the skills he's acquired.  He also says he loves working with vehicles and spent most of July working with Donnie Ridenour of Don's Bumper to Bumper.  Those 3 men helped Ian with the Santa house as did Mosier's friends, Tyler Bleeks and Madison Smitty, his mother and Nana, Tina Mosier and Lynn Cantrell also all pitched in.
Assuming CoViD doesn't cancel Christmas, Carmi will have a Santa House they can be absolutely be proud of this winter.