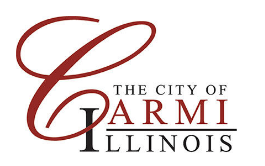 With the news Tuesday that Illinois will move back to Tier 3 on Friday, the Carmi City Council announced in partnership with the Carmi Chamber of Commerce that the planned Lighted Christmas Parade and the scheduled Tree Lighting Ceremony have both been canceled for 2020.  Chamber Executive Director Kelly Northcott says,
"The Carmi Chamber of Commerce have regretfully decided to cancel the Lighted Christmas parade due to the Governor moving us to Tier 3 mitigation. We do not want to go against the guidelines that have been issued for our state. This was a very hard decision to make as we truly did not want to cancel.  We as the Chamber do not feel it is in our best interest to go against the advisement of our local health department.
We want to thank everyone that was going to participate, and we hope to be able to celebrate together next year."
In addition, Carmi Mayor Jeff Pollard says city offices will continue to be closed. The offices were closed all of this week anyway due to CoViD; the mayor says now that closure will go on indefinitely for the time being.
Amber Ackerman-Knight's new business venture will receive a Façade Improvement Grant in the amount of $5,000.  Knight purchased what was the Downtown House of Prayer and is expected to move The Print Shop to that location and it's also thought she plans to open some type of coffee house inside the building.
Resident Jessica Williams addressed the council through the phone.  She is frustrated with what she calls the lack of upkeep of a neighboring property on Main Street and asked alderman and the mayor for an update on ordinance violations and consequences.  Her statement, as read is below:
"When we purchased our home I never foresaw the mess that we are living next to today. The neighboring 'home' has become a complete mess over the course of the last three years. It has become the 'talk' of the town, White County, and even Posey County, Indiana residents have mentioned the "Mess on Main Street" to me. I am embarrassed to inform them that yes, I know where they are talking about because I live right next to that mess.
When you enter the city limits, there is a sign that reads "Where Northern Vigor, Meets Southern Hospitality." The word vigor means effort, energy, and enthusiasm. This is a concept to be laughed at when considering this property. There is no effort to maintain the property at present. There is no enthusiasm to keep the property looking halfway livable.
I am tired of picking up a bag's worth of trash every week. Every week I put on gloves and get my bag and pick up cans, receipts, cupcake wrappers, diapers, beer bottles (some of which are broken on my property), toilet paper, paper towels, chip and junk food wrappers, and the list goes on. Additionally, there are at least two unused vehicles, at least one is unlicensed, and a camper home that even 'Cousin Eddie' from Holiday Vacation would be embarrassed to live in or use.
I realize you can't "tell people how to live." Everyone was raised differently and maybe this way of living is acceptable for some. However, why are the city ordinances established, if nothing is going to be done about them? If people don't follow the ordinances set forth by the city, they need to figure out how to, or move on. The ordinances have been established for a reason.
In closing, I have been informed that letters have been sent. I want to know the current situation. Are these letters being directed to the property owners or to the people that live at the property? Are the property owners being fined?  If they do not pay, what are the consequences? Why are we allowing this "Mess on Main Street" to become a landmark in our town? It is a disgusting representation of a city that I am losing faith in."
The property in question belongs to Robert Darling.  City Administrator Holly Healy says the city sent the original notice on April 21st and the Carmi PD issued a ticket on May 19th.  From there, the court set a hearing date for June 26th as a first appearance.  At that time, the defendant phoned in that he wasn't feeling well and the case was reset for July 31st.  On that date, again the court reset the date for August 28th and then again for September 25th.  A status hearing was then set for late October when the defendant again didn't show up, but reached out to Attorney Greg Stewart stating poor health.  Healy says additional letters were sent over the summer when the grass got high asking them to mow and she said the lawn was mowed when letters were sent.  The mayor added, "We were as upset about it being there as you are and we're working as hard as we can to get it taken care of.  Unfortunately, it's very disheartening on our end too because of the hoops that we have to jump through and getting involved with the court system.  It's not like me just calling my neighbor and saying, 'hey mow your yard' and they do it."  The next court date is set for December 4th.
Carmi City Council will next convene on December 1st at 5:30pm, most likely by phone again.