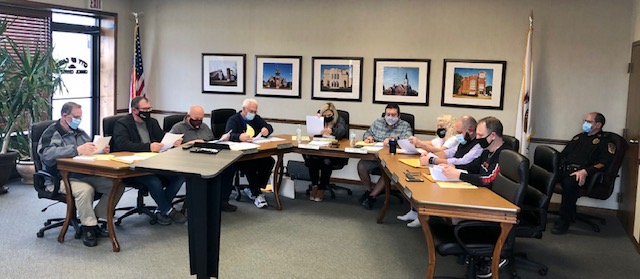 Harms Construction was awarded a TIF Agreement at the Carmi Council meeting Tuesday evening.  The $75,000 project will add an 1,800 square foot building addition to the property.  Harms says it will allow for additional inventory, an on-site training facility and some additional office space.  He was granted $8,000 toward the effort, paid upon completion of the project.  Council also signed off on a Façade Improvement Grant for Ryan Marx at the Carmi Taekwondo Center.  Mayor Pollard says Marx is looking at $24,641 worth of upgrades to include exterior doors and windows.
The city also accepted one of four bids submitted for a new Wastewater Treatment Plant tractor.  The city will be trading in it's 2010 New Holland with 784 hours and the bid accepted was for a John Deere 5055E Utility Tractor with a balance due of $21,800.  Pollard remarked it was about $6,000 cheaper than fixing the New Holland.  Bids were received from Sydenstricker Nobbe Partners out of Norris City, H&R Agri-Power, and Bobcat of Marion, IL.  SN Partners were awarded the bid.
Council spent about 15 minutes discussing a new Street Sweeper, Mayor Pollard saying…
They ultimately decided to gather more information and request bids.
Mayor Pollard reports the city has purchased a new vehicle for Fire Chief Larry Hite.  The Dodge Durango Hite has been driving was a hand me down from the City PD about a decade ago and Pollard says it's on it's last leg.  The city purchased Sergeant Craig Poole's vehicle from the county at a cost of $10,500.
Council went into executive session just before 6pm to discuss property.  No action followed.