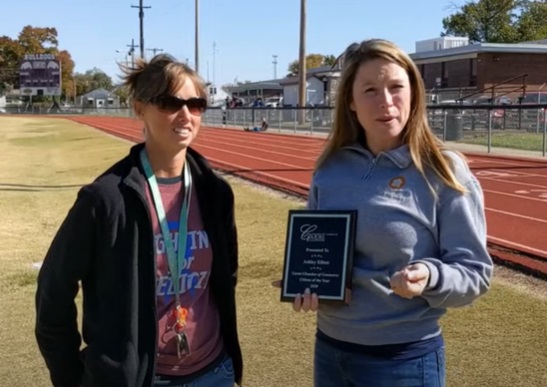 The year 2020 continued its trek into unchartered territory Thursday evening as the Carmi Chamber of Commerce's 76th annual Chamber of Commerce Dinner was held.  This one, the first ever pre-recorded version, was put together in the days ahead of its release Thursday evening.
Members attempted to give the program as much continuity as possible featuring many of the same elements as the previous 75 events.  It was undeniably different however with pre-recorded messages delivered by key figures.
New Chamber Executive Director Kelly Northcott opened the presentation with remarks.  She introduced the Chamber Officers and Board members for the coming year including new president Lindsay Schoenheit, VP Amber Knight, Secretary Lacey Harms, Outgoing President Lisa Wolff, and newly elected officer and Treasurer Sheryl Woodham.  Joining Woodham are fresh board members, Malinda Nelson, Amy McCarty, Eric Rahlfs, David Templeton, and Adam Winkleman.  Outgoing board members recognized for their 4 years of effort were Sandra Bryant, Shon Mosier, Jc Tinsley, and Brittany Murray.
Mayor Jeff Pollard's State of the City address included updates on efforts throughout the community as well as planned improvements.  The mayor also used his address to officially announce he is running for another term in office saying he was looking forward to continuing to serve Carmi for the next 4 years.
Native, business owner and former Citizen of the Year Scott Rice filled the role as featured speaker for the virtual event.  He opened his 12 minutes by talking about heroes and mentioned he's thinking for the first time about his own mortality (noting that he's turning 60 in the near future).  Specifically, he talked about Gale Sayers, American football player and former Athletic Director at SIU saying that he got the opportunity to meet his first hero during a past sports banquet held at Two Tony's.  Sayers book "I Am Third" which was later turned into the film "Bryan's Song" focused on friendship and his philosophy on life.  That philosophy is spelled out in the title of the book with God should come first, followed by family and friends, and then "I am Third".  Rice would follow with poignant religious and political tones ultimately tied to the community he loves so obviously.  He urged those to truly listen to each other and opines that's a big part of what's wrong with the world nowadays.  In addition, Rice mentioned his dealership has sold over the last decade 876 new automobiles, 2,252 pre-owned vehicles.  Rice Motors is celebrating 89 years in business.  He closed with a story and relating to listeners that whether you think Carmi and White County are a great place or a horrible one to live, it's up to you and comes down to your attitude.
Tracy Orr, the White County CEO facilitator gave remarks and the students introduced themselves.
Incoming president Lindsay Schoenheit talked about the mission and vision statement over the coming 365 days along with 3 goals.  She says increasing membership is her top priority, followed by increasing the Chamber's visibility, and implementing practices which will better communicate the value of Chamber membership.  She also encouraged members to bring positivity, both personally and in business followed by her take on the biblical story of David vs. Goliath.
Outgoing president Lisa Wolff was tasked with announcing the winner of a singular Business of the Year award.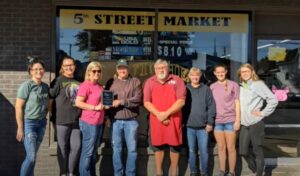 The 2020 Business of the Year is 5th Street Market, recognized not only for being an essential business in an underserved area of Carmi, but also for how the staff and ownership stepped up during the pandemic.
Briley Barbre, co-owner with Rick Barbre, had this to say about winning,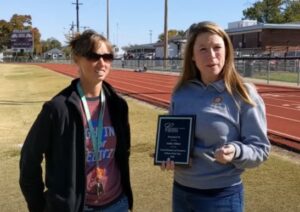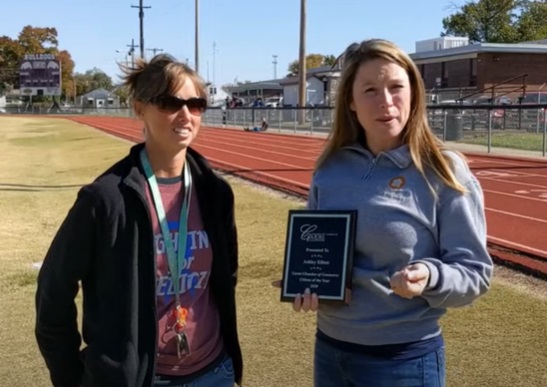 Amber Knight, Vice President of the Carmi Chamber followed up with the annual Citizen of the Year award surprising Ashely Elliott while on duty at school.  A two time winner of WROY/WRUL's Good Neighbor moment presented by James Cook State Farm was recognized by the Chamber specifically for her efforts with a sack lunch program she started in 2014 that's known as No Child Left Hungry.  Over the last year and specifically through the pandemic, the program has fed more than 14,000 students.  In winning, Elliott says,
To view the 39 minute program, you can visit the following link.  https://www.youtube.com/watch?v=rB3_MgMhNMc&feature=youtu.be.   As of a quarter after 10pm Thursday night, the virtual event had just under 200 views.  Learn more about the chamber at http://www.cityofcarmi.org/the-chamber/ or call 618-382-7606.