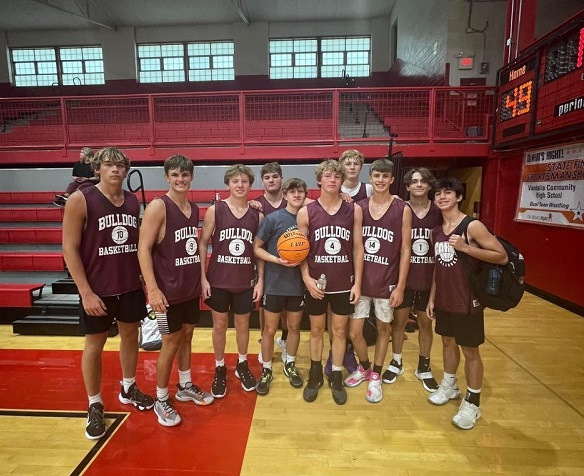 Story courtesy of Cole Carter for WROY/WRUL Sports
We may be five months away from the 2022-2023 high school basketball season, but the Carmi-White County Bulldog basketball team is geared and ready to roll for the season. The Bulldogs have spent the summer playing in gyms all across southern Illinois, a yearly occurrence for head coach Kevin Wolff and his squad. The Bulldogs capped off the summer with a trip to Vandalia on June 27th and 28th, as they were one of 18 teams competing in the Vandalia shootout.
CWC won all three games they played in on Monday, defeating Altamont, Nokomis and Vandalia. Early Tuesday morning the Dogs took down a 2nd team from Vandalia as well as Freeburg to go a perfect 5-0 in pool play. Carmi then defeated Effingham in the first round of actual tournament play, which set the stage for a matchup with Massac County in the semifinals. The Bulldogs fought the reigning regional champions all the way to the end, but eventually came up just short, losing 30-25. Massac County would go on to defeat Benton in the championship game of the tournament.
"I'm really proud of how the boys came in this summer and just worked their tails off," said CWC head coach Kevin Wolff. "I wanted us to end the summer on a great note and we did just that. We played some really good teams in this tournament, and we beat some really good teams in this tournament. These kids have improved so much throughout this summer, and that really showed this week."