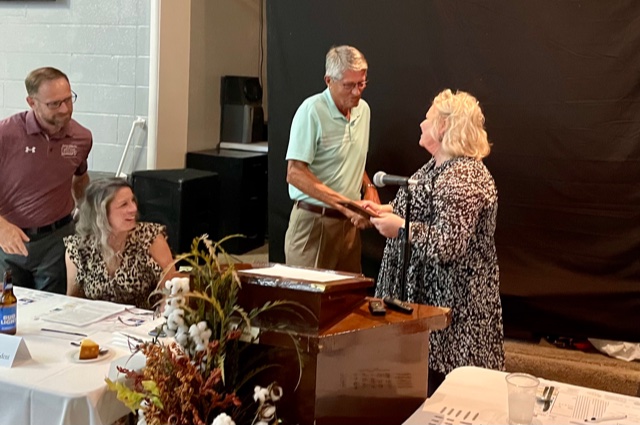 A grander night in Carmi, you won't find.  The city's leaders and most influential business trailblazers gathered Monday night in a return to somewhat normal for their 77th annual Chamber of Commerce Annual Dinner.  Mr. Thys Bax is the 2021 Carmi Citizen of the Year as named by the organization.  The humble and generous Bax, originally immigrated from Europe says it's all about the people and giving back.
Also honored for their commitment and standing in Carmi, Scott and Todd of Rice Motor Company.  The dealership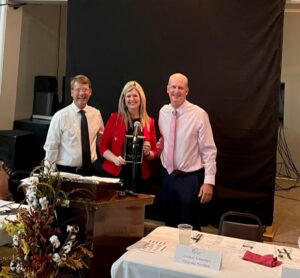 was recognized as the 2021 Business of the Year.  After 10 years of awarding a small and large business of the year, last year the Chamber made the adjustment to name a singular award each year.  Rice Motors now joins 21 other businesses who have been praised for their contributions over the last dozen years.  Rice Motor Company is celebrating 90 years in business this year.  Jc Tinsley for WROY/WRUL News did an exclusive back in March of this year on that distinction.  Read more or revisit it at https://www.wrul.com/local-news/rice-motors-celebrates-90-years-serving-the-tri-state/
Bart King, with We Love White County served as the keynote for the evening, delivering a presentation on what's to come from the young not for profit.  You can enjoy his entire remarks below.
Mayor Jeff Pollard gave the annual State of the City address.  Listen in below…
Transcript of Mayor's Speech:
Good Evening, I would like to welcome everyone to the 77th Annual Chamber of Commerce Dinner. It is great for all of us to be able to meet as a group in a room this year! A special thanks goes out to Yesterday's for preparing us a great meal as always.

This year has been no exception, all of our departments have been very busy working on all kinds of projects and upgrades.

We have been working on water and sewer upgrades along with street and sidewalk repairs. All of our departments were able to help extend our infrastructure to supply service to the new Ferrell/Deaconess Clinc. This year we closed out the Grant for Industrial Drive and Marguerite Street Sewer Project. The Airport is receiving approximately $60,000 in COVID relief funds along with $260,000 in grant funding that we used to replace the road entrance and parking area. The City has received $100,000 from Illinois Housing Development Authority Strong Communities Program to tear down homes. We just tore down one on First Street and have two more to bid out soon. We approved MFT Funds to repave the parking spots on Main Street. We have received $345,000 in Rebuild Illinois Funds to repair Meadows and Saunders Ave. Anticipating actual construction work to be in 2023. The state has given us $600,000 in Non-Entitlement Unit Money, part of

which will be used for a new pressure reducer station. We also have $500,000 Community Development Block Grant through the Department of Commerce and Economic Opportunity to replace the water and sewer on Hillsdale with the work likely in 2022. The city will also use a IEPA loan with forgiveness on this project. Just really quick since I have updated everyone on the grants and money received for all of these projects, I would like to explain that the areas chosen to do the projects have to meet different requirements to qualify we just can't receive grant funding and just use it anywhere.

Also, this year we have completed the dog park, we have added 5 new tent camping spots across the bridge on the 66 acres with water and electrical hook-ups. Phase two at The Uptown Theater Park has been completed with concrete patio and walks with benches, tables, electrical charging stations, free Wi-Fi and street lights. Hopefully by Corn Day of next year the covered stage will be completed. This area has really brought life back to uptown and is utilized all of the time. Last, but not least obviously the Carmi Light and Water building has gotten a face lift along with a new pnumatic tube system that allows it to be more convent for our customers to communicate with the office on the ground level. Before winter the area will be completely glassed in for a heated/cooled environment with a handicap accessible front door.

The council passed a resolution to use $600,000 of MFT funds to resurface the roads at Burrell Woods along with replacing the bridge to the 66 acres and installing a black top road through the property around to the dog park and out to the county road. Our goal is to develop that area and install up to 20 RV campsites to accommodate the traveling construction workers who need to stay longer periods of time. This would free up the original campground for the weekend or short time campers. Burrell Woods has been a huge asset to our community we are very privileged to have a privately owned area like this. We have also applied for another playground grant and if we receive it that structure will be place at Burrell Woods by the old Boy Scout Cabin. The Airport has also been a huge asset to us it is being used more and more all of the time. They have also been hosting street drag racing every two weeks through the summer. Not only will these events be televised but they have brought racers from all over the country to our town and generating revenue for our town. I know everyone is saying to them self how did I not know there has been so much going on. Well, I can help answer your question Kelly and I have been trying to reach the community about downloading our City of Carmi App. It is free, very simple and take only a few minutes and is offered on both I-Phone and Android. All you do is go to your play-store type in City of Carmi search, click on icon and download. This app will keep you informed on anything

that is going on in our town. Kelly does a great job of keeping upcoming events on the calendar and Holly keeps the public informed on boil orders, street closures and any other emergency that we need to know about. So, I strongly urge everyone who doesn't have the app to download it today and tell all your family and friends.

In closing I would like to thank all of my office staff, employees, City Clerk, City Treasurer and Aldermen for all of their hard work. We really have a great staff, or family if you will, that work well together to help do what is best for our community.

Now, it gives me great pleasure to introduce tonight's guest speakers Bart King & Alex Aud for We Love White County, their organization has done many great things for our community. It is because of them that we have the beautiful new playground and Uptown Theater Park!

Thank You and I hope everyone enjoys the rest of the evening!
Amber Knight, the incoming Chamber president remarks on the past 365 days as well as her vision for the upcoming year.
Finally, new board members were announced and outgoing board members were recognized for their efforts.  Lisa Wolff was recognized for her efforts in her final year of service.  The past president role will now be filled by Lindsay Schoenheit.  Also outgoing are Cynthia Attebury, Dr. Clint Taylor, and Denton Weiss.  Denton's wife Abby Weiss was the top vote getter and will serve as an officer in line for the presidency.  Joining her on the board for 4 year terms are Justin Dartt, Landon Bayley, Whitney Hobbs, and Malinda Nelson.
Former Business of the Year Winners:
2020 – 5th Street Market
2019 (Small) – Weber Auto Repair
2019 (Large) – Taco Factory
2018 (Small) – Town & Country Barber Shop
2018 (Large) – Roark Transport
2017 (Small) – Nancy J Winer, CPA
2017 (Large) – First Bank
2016 (Small) – Taylor Eye Care
2016 (Large) – Little Giant Grocery Outlet
2015 (Small) – Carmi Veterinary Clinic
2015 (Large) – City of Carmi
2014 (Small) – WROY/WRUL, a division of TOC Direct Media
2014 (Large) – Martin & Bayley
2013 (Small) – Merle Norman Cosmetics & Boutique by Jo Haley
2013 (Large) – O'Daniel Trucking Company
2012 (Small) – Campbell Funeral Home
2012 (Large) – Elastec
2011 (Small) – Hale Body Shop
2011 (Large) – George Mitchell Drilling
2010 (Small) – Plum Street Pharmacy
2010 (Large) – Wabash Christian Village
Past Citizens of the Year:
2020 – Ashley Elliott
2019 – Mark & LeAnn Rogers
2018 – Ralph Anselment
2017 – David Templeton
2016 – Tim Gholson
2015 – Jack Martin
2014 – David Campbell
2013 – David Port
2012 – Keith Hoskins
2011 – Tom Logan
2010 – Dan Drone
2009 – Scott & Todd Rice
2008 – Jimmy Gaines
2007 – Mike Knight
2006 – Roscoe Templeton
2005 – Don Winkleman
2004 – Barbara Kearney
2003 – Archie Brown
2002 – Loren Minnick
2001 – Betty Brown
2000 – Robby King
1999 – Iva Jean Bayley
1998 – Janice Gates
1997 – Sam & Martha Endicott
1996 – Mrs. Suzanne Calvert
1995 – Philip Endicott Stocke
1994 – Dr. Charles Schanzle
1993 – Gary Edwards
1992 – Robert Harlan
1991 – Charles O. "Bill" Williams
1990 – Manley Holt
1989 – Mrs. Anita Peyton
1988 – Ruth Musgrave Coulter
1987 – Morris McCall Family
1986 – Gerald Pollard
1985 – Ms. Susan Murphy
1984 – Charles Hortin
1983 – Ken Alldredge
1982 – Paul Hayse
1981 – Ivan A. Elliott, Jr.
1980 – Rev. Frank Brown
1979 – Roger Heckler
1978 – Miss Mertice Pyle
1977 – Mrs. Ruth Burdette
1976 – Miss Marie Harrawood
1975 – Robert G. Brown
1974 – Mrs. Marie Worlds
1973 – Judge Henry Lewis
1972 – Talmage W. Kisner
1971 – Carl D. McVey
1970 – John Evers
1969 – Michael F. Croghan
1968 – Herbert G. Bayley
1967 – Allen Ball
1966 – J. Robert Smith
1965 – George H. Schanzle
1964 – Earl C. Boehringer
1963 – William F. Sharp
1962 – Byford G. Karns
1961 – C.F. "Bud" Rebstock
1960 – Harold Robbins
1959 – Carl G. Anderson
1958 – Robert Randolph
1957 – Rev. Fredrick Hahn